---
Price spike as import restrictions and stockpiling causes maize shortages
Discussions with Government officials unfruitful
Farmers awaiting shipment of wheat beginning of next month, prices likely to ease then
---
By Shailendree Wickrama Adittiya
---
Shortages in maize, commonly used as animal feed, has resulted in a reduction in egg production despite high demand, and has led to a spike in prices.

According to the All Island Poultry Association Chairman Ajith Gunasekara, import restrictions and the withholding of supplies by maize collectors have resulted in a shortage of chicken feed, which is affecting egg production in the country.

Maize accounts for 60% of a hen's diet and the supply required by poultry farmers depends on local production and imports, with harvesting occurring in February. Gunasekara explained that 50% of the maize used as animal feed was imported to the country, but that restrictions imposed on maize imports was causing a shortage in animal feed.

"Earlier this year, maize collectors started to hold supplies, despite local production not being sufficient for industry needs," he said, adding that maize collectors were attempting to sell maize for a higher price by holding stocks and creating an artificial demand.

Gunasekara explained that 1 kg of maize was sold at Rs. 50, which made it feasible for farmers to sell eggs at a farm rate of Rs. 15 per egg. This was a price decided in March 2019. When considering the price of production, 70% of it is food costs, which is why shortages of maize have directly affected egg prices.

"When maize is Rs. 50 and an egg is sold at Rs. 19, it is beneficial to both the vendor and the consumer," Gunasekara added.

He explained that the activities of maize collectors led to a discussion with the Finance Ministry Secretary on 25 February, where all parties agreed that maize would be sold at Rs. 55 per kilogram. Despite this, poultry farmers were faced with a lack of supplies a week later.

"In March, we faced a massive shortage. The collectors bought maize for Rs. 47 from farmers but were holding it back to create a demand in the market," Gunasekara commented. This led to another discussion with the Finance Ministry Secretary and a maximum price of Rs. 55 for a kilogram of maize was imposed.

Banks were also encouraged to collect loans issued to maize collectors to pressure them into selling the supplies they had, while the Consumer Affairs Authority was told to take action against any vendors selling maize for a higher price.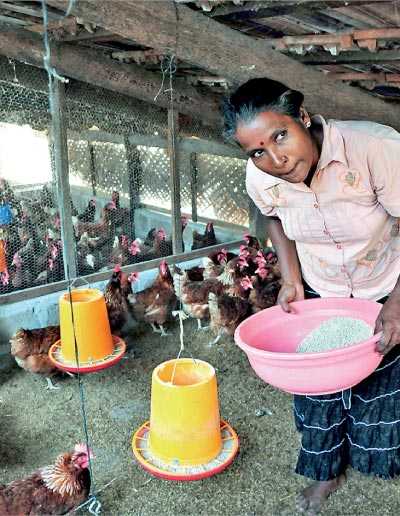 Gunasekara states that, despite this, maize was sold for as high as Rs. 85 per kilogram and, that too, very little at a time. Gunasekera charged the Consumer Affairs Authority did not take action against such vendors.

"In June, the President announced that importing maize will be restricted in order to develop local production. We accepted this decision," he said, explaining that the All Island Poultry Association has joined efforts to encourage local production.

Monaragala and Anuradhapura produce some of the highest quantities of maize in the island and projects have been launched to increase cultivation in these areas. While the Government is taking steps to release land for the cultivation of maize, Gunasekara added that the results of these projects will be seen next year, with the harvest in February.

While these projects will encourage local production, it cannot meet the shortages caused by restrictions on imports. Gunasekara stated that maize collectors were taking advantage of this situation given that local production alone does not meet demands for animal feed.

Due to the difficulties they were facing, poultry farmers were able to get approval to import wheat, but the shipment was delayed and can only be expected early next month. While the shipment of wheat would improve the situation somewhat, Gunasekara explained that wheat is not a replacement for maize, and changes will have to be made to animal diets.

Large-scale farmers will have the capacity to make these changes, but small-scale and medium-scale famers are hesitant about switching to wheat. However, Gunasekara is optimistic that prices will reduce once the shipment of wheat arrives in the island.

This has resulted in a drop in production, which Gunasekara estimated to be 30%. "Usually, we have a demand of around 800,000 eggs a day, but we now produce 600,000 eggs a day so there is a massive demand and people come to farms looking for eggs. Today, people are even willing to buy at a farm rate of Rs. 22 per egg," he added.

Understandably, the pandemic has also had an impact on the industry, with farmers selling their birds due to fears and uncertainty regarding the future. This has caused poultry production to decrease. However, egg consumption increased during the past few months, Gunasekara said, explaining that mobile services provided people with eggs for Rs. 10, despite a production cost of Rs. 15, during the early months of the COVID-19 pandemic affecting the country.

"Egg consumption in the country increased during this time and people got used to buying eggs daily. That increased consumption has continued, as it is a high source of protein for a relatively low price," he added.

Despite this increased demand, supply has remained low and the industry is failing to meet consumer demands. Gunasekara suggested that approval to import even small quantities of maize will help the industry face current challenges, especially those faced by small-scale farmers.

He also suggested discussions between all related parties when making decisions on price controls, as uninformed decisions that do not take into account production costs put pressure on farmers.