Sri Lankan Ambassador to China Dr. Palitha Kohona holds an official meeting with the Vice Governor of China's Liaoning Province Chen Luping​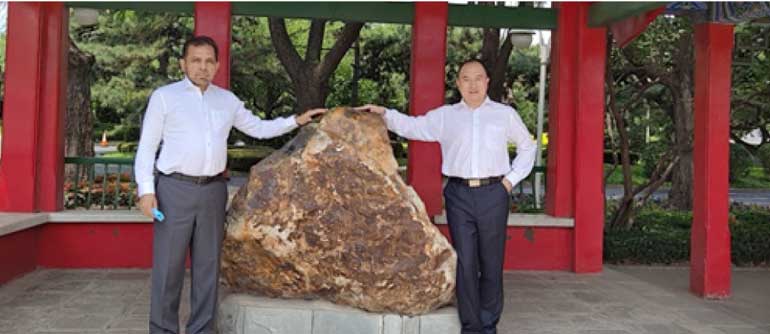 The maiden China-Sri Lanka Health Silk Road Forum was successfully inaugurated on the 26 July 2021 with an official meeting between Sri Lankan Ambassador to China Dr. Palitha Kohona and Vice Governor of the Liaoning Province in China Chen Luping. The forum was virtually conducted in Sri Lanka and China.

On the Governor's official meeting, the Ambassador appreciated the hospitality of the Liaoning People's Government and noted that China had achieved extraordinary success in in controlling the control, and that Sri Lanka was learning relevant control measures and protocols from China. Ambassador Kohona hopes to promote friendly local communications with Liaoning and further develop cooperation in the areas of trade, health and tourism.

Luping welcomed the Ambassador's official visit to Liaoning and suggested to:

1. Enhance cooperation on pandemic controls and experience sharing to build a community with a common future of human health.

2. Jointly promote the 'Belt and Road' initiative and promote practical cooperation in multi-dimensions.

3. Develop friendship provinces based on practical cooperation.

Ambassador Kohona also visited the Liaoning University of Traditional Chinese Medicine, the first-ever affiliated hospital of the University and a Bio-Technology Company specialising on frontier stem cell technology.

During the virtual conference, Gampaha Wickramarachchi University of Indigenous Medicine Vice Chancellor Prof. Janitha Liyanage gave a presentation on, 'what role can indigenous medicine play in the new normal? (The special advantages of traditional Chinese Medicine and Ayurveda)'. Prof. Chandima Jeewandara from University of Sri Jayawardenepura gave a presentation on 'how did the university respond to COVID-19 in Sri Lanka?'.

As one of the achievements of this forum, the Health Silk Road Committee was founded as a mechanism to contribute to international cooperation in combating the epidemic and the construction of a Health Silk Road in the global fight against the epidemic while facilitating global coordination and cooperation in this respect. Other opportunities in the health frontier technology and indigenous medicine have been created.

The first-ever Health Silk Road Forum was authorised and organised by the Indo-Pacific China Business Advisory Council (IPCBAC) as part of its flagship product, the 'Renew, Rebuild and Reinvent' forum. IPCBAC's mission is to promote sustainable growth with public-private partnerships (PPPs), build political commitment and trigger action on critical economic issues at all levels, including the highest decision-making level, to facilitate the efficient policy coordination, connectivity of infrastructure, unimpeded trade, financial integration and people-to-people bonds, of all the dimensions on an environmentally sustainable basis for the benefit of all life on earth.