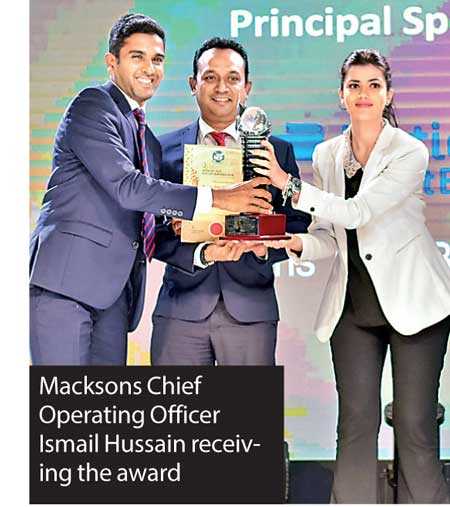 Macksons Paints Industries Ltd., one of the leading paint manufacturers in the country and manufacturers of the popular brand of surface paint for buildings, Multilac, won the Silver award for the third consecutive year at the Export Awards 2018 held by the National Chamber of Exporters recently.

The company won the award under the medium category for Chemicals & Plastic Products Sector. Chief Operating Officer Ismail Hussain received the prestigious award at the spectacular event held in the main ballroom at Hotel Shangri-La.

The awards ceremony was held under the auspices of Ambassador of the Netherlands Joanne Doornewaard, who was the Chief Guest. A large number of Sri Lankan heads of corporate and top export companies attended the gala event.

Held for the 26th consecutive year, the NCE Export Awards recognises and rewards exemplary Sri Lankan exporters. The National Chamber of Exporters (NCE) is highly respected for maintaining high standards and professionalism and the 2018 awards had the highest number of applicants vying for the highly sought-after accolades.

Participants in 2018 were judged on general export criteria including export performance, market/product development, value addition, financial performance, effective management efforts, sustainability, corporate social responsibility, significant achievements related to the company and country, implementation of quality management / environment protection systems, efficient energy and waste management, branding and innovation in addition to contemporary requirements to compete in the global arena, government economic and export policies.

Macksons Holdings Managing Director Mizver Makeen said, "Winning the country's topmost export award for three years in succession is indeed a proud achievement for Macksons through which we have demonstrated that the quality of our products are accepted across the world."

Most importantly, these awards recognise Sri Lankan exporters who market locally manufactured high quality products globally, bringing in valuable foreign exchange for the country. Multilac exports paint and surface coating solutions to India, the Maldives, Oman, Saudi Arabia, Australia, Seychelles, Vietnam, Malaysia, Madagascar, Pakistan, Myanmar, the Congo, China and Trinidad and Tobago.

Multilac is among the first three global paint companies to receive the prestigious certificate for conformity as a safe paint from IPEN America. This global recognition strengthens Multilac's ability to seek export markets, proving that the Company's product range adheres to international standards for lead safety.