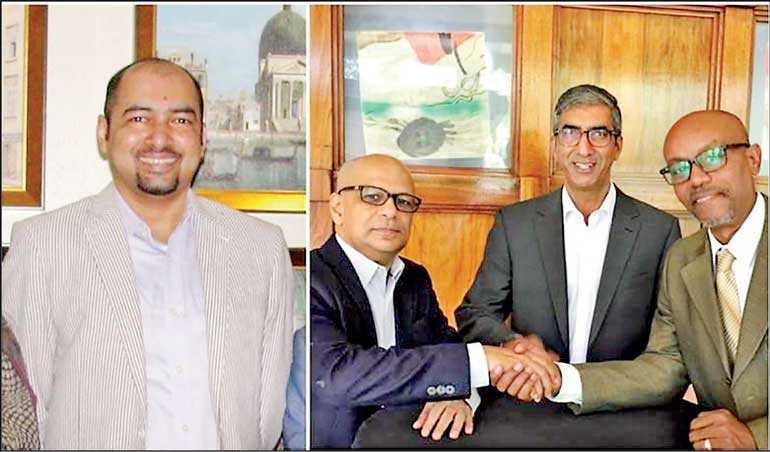 From left: Gemcon Group Executive Director Dr. Kazi Anis Ahmed, MTI CEO Hilmy Cader, MTI Senior International Consultant Darshan Singh and MTI Associate in Ethiopia and BCaD Consulting CEO Afework Y. Germamo
---
MTI Consulting facilitates Bangladesh's leading business conglomerate, the Gemcon Group, to explore Ethiopia (with the rest of Africa to follow) for the mainstream infrastructure and engineering business – Gemcon Ltd., via MTI's Associate in Ethiopia, recently visited Addis Ababa.

Gemcon Ltd. is the first and one of the largest manufacturer of Spun Pre-stressed Concrete (SPC) poles in Bangladesh. Since its formation in 1980, Gemcon Ltd. has made it possible for both urban and rural areas of Bangladesh to benefit from electricity distribution. The company now has decided to expand their operations beyond Bangladesh, and has enlisted MTI Consulting to assist their entry to the electricity distribution market of Africa.

Ethiopia, the second fastest growing economy in Africa, was selected as a starting point for market entry and via MTI's Associate in Ethiopia, BCaD Consulting, a delegation from Gemcon Ltd. recently completed a successful visit to the capital of Addis Ababa. During the trip, the delegation from Bangladesh was also able to visit an Ethiopian SPC manufacturing plant.

BCaD Consulting Management has been operating for two decades and carries out a wide range of business support activities through high calibre multidisciplinary professionals in various fields – using both custom-made models as well as internationally anchored ones for facilitating enterprise competitiveness.

In addition to local organisations, BCaD Consulting has worked with a large number of leading multilateral organisations/donor agencies such as the World Bank, ILO, USAID, Oxfam, SNV, GIZ, etc. on multiple projects in areas such as entrepreneurship/micro enterprise development, capacity development training, financial education etc.

MTI Consulting is an internationally-networked boutique management consultancy, offering advisory services in strategy, strategic planning, corporate restructuring, process reengineering, performance management, international market entry, feasibility studies, due diligence, corporate finance, mergers and acquisitions, HR, executive search/head hunting, marketing strategy, branding and market research. Since its inception in 1997, MTI has worked on over 640 assignments in 43 countries, covering a diverse range of industries, clients and business challenges.