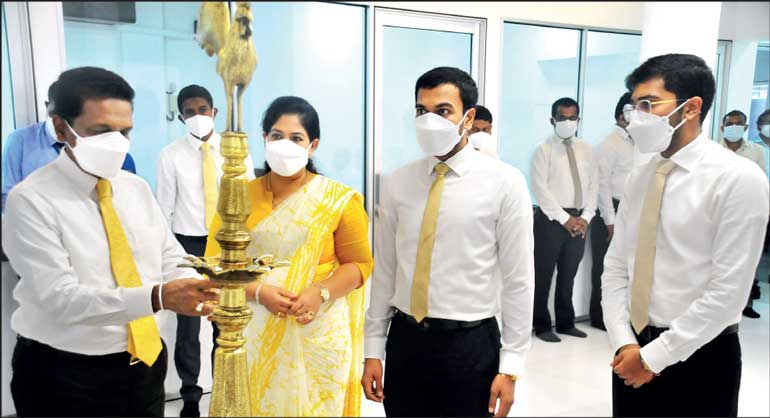 From left: Sumathi Holdings Chairman/Managing Director Jagath Sumathipala, Directress Samantha Sumathipala, Executive Director Chadu Sumathipala and Director – Business Strategies and Development Chathula Sumathipala at the opening of the new premises of Lokx Security Services
Lokx Security Services Ltd., a subsidiary of Sumathi Holdings, is a leading security company providing total security solutions for commercial and industrial enterprises, securing residences and cash transit operations all around the island. It recently relocated its operations to No. 17, Jayantha Weerasekara Mawatha, Colombo 10.
As a company registered and certified by the Ministry of Defence, Lokx Security Services was founded in 1987 as Vice Squad Security Services to support the vast portfolio of Sumathi Holdings. The company relocated to provide its valuable customers with distinguished and secure services with spacious office facilities and ample parking. The new premises is conveniently located at the heart of the city supporting the providing and monitoring of surveillance with easy accessibility. The location also allows for business expansion with technically upgraded monitoring systems for clients further enhanced by a larger number of staff.
Ably supported by Sumathi Holdings and propelled with the mission of providing total security solutions to safeguard people and organisations, Lokx Security Services provides real time, proactive and reliable security solutions to match the varying needs of their valuable clients whilst strictly maintaining high standards of quality and professionalism. Services are conducted in a respectable and courteous manner safeguarding the privacy of the concerned individuals and organisations with heightened sensitivity.
Since its inception in 1987 the company has undergone positive transformation over the decades, efficiently providing its services. Today the company stands with a team strength of 1,500 well-trained security personnel, consisting of primarily ex-military personnel who have undergone a thorough screening to assess their integrity, honesty, loyalty and conduct. The team consists of tremendous experience and dynamic knowledge in carrying out their duties effectively and efficiently to provide protection and security.
Believing in building long-term, mutually rewarding relationships with their valued clientele Lokx Security Services thrives on reliability and trust as their core values. The state-of-the-art technology from recognised international suppliers for digitalised required security functions, innovative and adaptable methodologies strengthened with the nation-wide service coverage and well-trained security personnel are valuable assets of the organisation. "At Lokx, we are committed towards safeguarding the interests of our clients and their valued possessions. Our staff are well trained to handle all situations effectively and their skills are updated through quarterly refresher programs to maintain high standards. We provide specialised services and tailor-made solutions focusing on our clients' requirement to ensure they have a personalised service that is reliable and trustworthy," commented Director Business Strategies and Development Chathula Sumathipala.
Lokx Security Services operates out of two strategically located regional offices. The offices are well-equipped with quick reaction teams for rapid deployment and back-up services reinforced with excellent communication system, permitting regular communication with security personnel located at client premises.
In spite of the pandemic situation, Lokx Security Services has maintained its professionalised standards in servicing the clients being proactive and initiating all steps necessary to maintain a healthy workforce strictly ensuring that their staff are fully vaccinated and providing value added services beyond basic security functions, while recording a significant business growth.