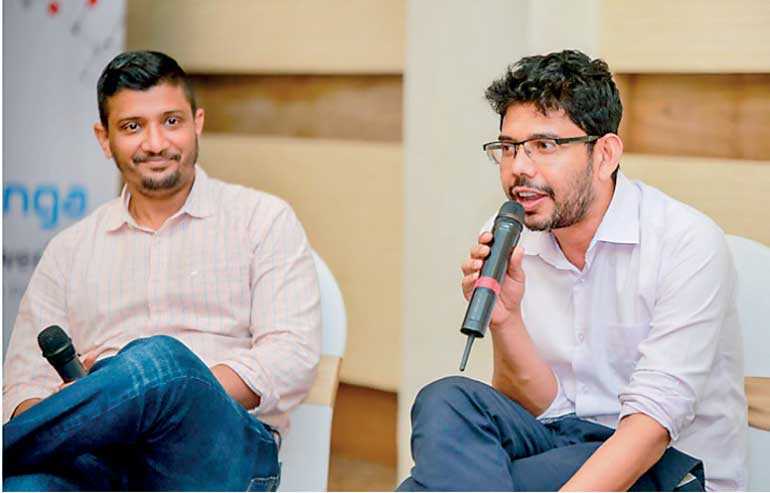 Ahmed Irfan (left) and Dr. Sankha Muthu Poruthotage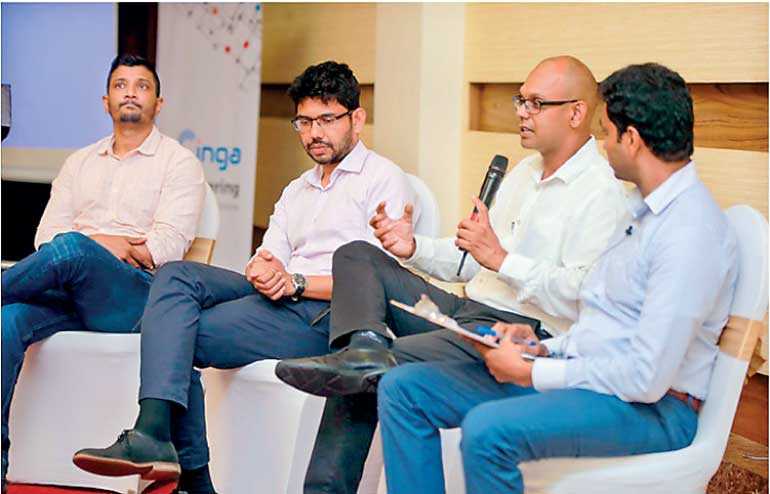 Speakers
The quarterly apparel meet-up, organised by the Center for Employment, Entrepreneurship and Innovation Development (CEEID), was recently held in Negombo under the theme 'Technology Innovation and Artificial Intelligence in Apparel Manufacturing'. Linear Squared and nCinga, experts in AI and Smart Manufacturing respectively, supported the event as knowledge partners. The quarterly apparel meet-up is organised to create a platform for professionals within the industry to share knowledge, engage and meet experts in supporting fields.
Delivering the keynote address, EFL Chief Digital Officer and Innovation Quotient Ltd. Founder Ahmed Irfan said, "The overall manufacturing landscape is evolving. It is heavily influenced by the people we do business with, and the changes in their environments. As an industry, we can't afford to keep functioning in silos. We need to connect with other industries, especially the technology industry, and utilise the developments and innovations in those spaces to our advantage. The apparel industry will always depend on a human element, therefore, what we need to deploy in our factories is autonomation – automation with a human touch. Technology can help us get there."


Linear Squared is a Machine Learning and AI focused organisation that builds SaaS products to address business challenges across numerous industries, including apparel, retail, FMCG, QSR, telco pharmaceutical and manufacturing. Linear Squared brings together native industry understanding, cutting edge technology and data analytics to help organisations make and execute strategic business decisions.

Linear Squared Ltd. CEO Dr. Sankha Muthu Poruthotage made a presentation on AI and its applications in the apparel industry. "At Linear Squared, we believe that intelligent, data driven solutions for every complex business problem lies in the alignment of data, algorithms and technology. The apparel sector is no different. The entire production process, from design, to cutting, sewing, finishing, and packing, can be enhanced by data driven AI applications," he said.

A team from Linear Squared demonstrated Capacity Squared, the world's first AI-driven planning assistant for apparel manufacturing developed by the organisation. Capacity Squared is a software platform that assists the planner to automate and optimise order scheduling for production, leading to higher efficiencies. Its easy-to-use graphical user interface allows planners to generate highly accurate and optimised production schedules in minutes.

nCinga is dedicated to transforming manufacturing organisations by helping them adopt IoT technologies, real-time event capturing and processing, predictive analytics and mobility devices – the principles of Industry 4.0.

nCinga Innovations Singapore Head of Global Sales Mudith Maddumarachchi spoke on Industry 4.0 – The Smart Factory. "Technology is growing and evolving at such a rapid pace, and organisations that fail to keep up will soon be consumed by forward thinking competitors. The fourth industrial revolution is well upon us, and technology is completely changing the manufacturing game with real time Insights to reduce wastage, bring order Predictability and increase Efficiency. Businesses need to make use of technology to automate repetitive tasks and utilise real-time data to make smart decisions," he said.

nCinga showcased nFactory, its industry 4.0 aligned Manufacturing Execution System (MES) for next generation smart factories. nFactory creates a 'digital twin' of the factory floor in the cloud. The underlying idea is to help organisations make data-driven business decisions anywhere, at any time by simply accessing manufacturing operational insights using a smartphone. The platform has already been successfully deployed across factories in Sri Lanka, Bangladesh, India, Indonesia, Thailand, Singapore and Vietnam with over 40 happy manufacturers.

This event was attended by 30 participants from 13 apparel manufacturing organisations, including MAS, Brandix, Star Garments, Mliban Textiles, Eskimo Fashion Knitwear and Crystal Martin. The presentations were followed by a panel discussion moderated by CEEID Executive Director Lalinda Ariyaratna. Participants were also given the opportunity to trial the two solutions showcased by Linear Squared and nCinga at an experience counter.