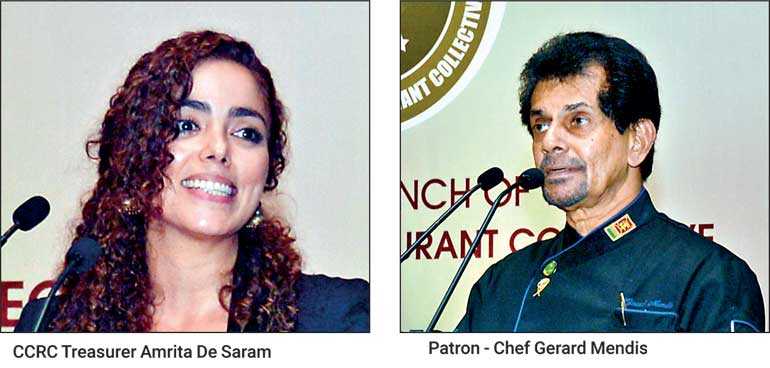 ---
As the restaurant, food and beverage sector demonstrates significant growth, Colombo's restaurant owners, realising the importance of a shared voice, launched the Colombo City Restaurant Collective (CCRC) yesterday at The Stables at the Parks Street Mews complex.

The principal objectives of the association is to act as the apex body representing the food and beverage industry, to serve as a repository for smart and relevant intelligence and to promote industry development by raising professional standards.

Furthermore, it hopes to establish links with similar local and international professional organisations to share knowledge and foster friendship, cooperation and mutual understanding. CCRC also wishes to organise professional exchange programs with other international organisations.

It also plans to assist restaurant owners to open similar institutions in other parts of the country in order to expand the membership and share its goals.

It will play an important role in compliance and regulatory affairs, working with the relevant government authorities and their agencies on issues that have an impact on the industry such as the Ministry of Tourism, Tourist Board, Excise Department, Public Health Inspectors and other officials.

In order to continue making Sri Lanka the best destination for tourists, CCRC plans to promote new food and beverage concepts, encourage entrepreneurs to join the industry and raise the bar when it comes to quality, service and creativity.

Additionally, it wishes to promote industry development by sharing best practices and improving competitiveness of member businesses while ensuring that it is the respected voice for Sri Lanka's food and beverage industry by acting as a bridge between the sector and the Government.

CCRC will be a key contributor to both locals and tourists by being the apex body representing the food and beverage industry. Another one of its goals is to provide the finest quality food and beverage products using the highest food and safety standards.

It plans to promote, contact and coordinate between members and organisations in the industry or related industries.

The membership is open to sole proprietorships or a company engaged in the operation or management of a restaurant or similar establishment that has been licenced by the relevant Sri Lankan authorities. These establishments should be operating with the approval of the Colombo Municipal Council and possess a valid trade licence and VAT registration.

In order to give back to the community that supports its business, CCRC will promote its CSR community-related projects.

The Executive Committee consists of well-known restaurateurs such as chef Gerard Mendis, Chairman of the Chefs Guild of Lanka and owner of Gerard Mendis Holdings Ltd, who will function as the association's Patron; Harpo Gooneratne, founder and CEO of Harpo's cafes and Restaurants Group who will be the association's President; Dharshan Munidasa, founder of Nihonbashi, Ministry of Crab, Kaema Sutra, The Tuna & The Crab, Next Innings and Café Nihonbashi, who holds the distinction of being the only Sri Lankan to have had two of his restaurants featured on the Asia's 50 Best Restaurants list, serving as Vice President; Amrita De Saram, the founder and owner of August by Mama Aida's, acting as Treasurer; Kaleel Muzammil, General Manager of Rare Bar + kitchen as Secretary; Dinesh Wijesinghe, Partner and Managing Director of M.S.D. Capitol Holdings Ltd, operators of the Sugar Bistro and Wine Bar group of restaurants, Sugar Beach Mount Lavinia and Talpe, Bailie Street Merchants Resto Bar, Kava Island Bar and Club Tribe, as Assistant Secretary while Saurabh Udeshi, Director of Chinese Dragon Cafe and Hisham Cader, owner of Sandwich Factory, will serve as committee members.

The restaurant industry currently employs over 7,000 people and contributes more than Rs. 10 billion annually.