From Business Analyst to General Manager – Head of Strategy Agasthi Jayagoda's journey fuels Laugfs' global success
Embracing performance-driven culture and empowering internal talent for sustainable growth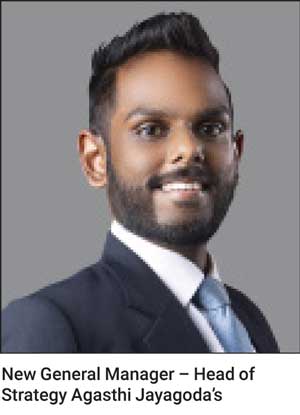 Laugfs Holdings Ltd., has recently appointed Agasthi Jayagoda as General Manager – Group Head of Strategy.

With an impressive track record encompassing over a decade of experience in strategy, corporate finance, and investment, Agasthi is well-equipped to lead the new Strategy Division of Laugfs Group, one of Sri Lanka's largest diversified conglomerates with a portfolio of over 20 businesses spanning multiple industries.

Agasthi's journey with the Laugfs Group began in 2013 when he joined as a Business Analyst. Since then, he has played a pivotal role in driving the company's growth and transforming it into a global conglomerate. Notably, Agasthi was instrumental in establishing the Corporate Finance Division within the group, showcasing his expertise in strategic planning, financial accounting, investment analysis, business valuations, and financial analysis across various industries such as oil and gas, energy, retail, FMCG, and trading. In addition, Agasthi streamlined group-wide Investment Policies, spearheaded strategic planning, and played a key role in MandA transactions and expansions, including ventures in Bangladesh, Saline (IV) manufacturing, and solar power plants. As a core team member, he successfully implemented the SAP ERP system for Laugfs Group.

Recognised for his outstanding contributions, Agasthi holds several professional qualifications including ACMA, CGMA, MBA, BBA (first class honours), and is currently pursuing the prestigious CFA program (Level II). He excelled in the CFA Level I Exam, scoring in the 90th percentile, and achieved notable rankings in CIMA, securing the 11th place World Ranking for Final Case Study, the second place Sri Lanka Ranking for Enterprise Management, and the seventh place Sri Lanka Ranking for Performance Operations. Agasthi also holds a first class honours bachelor's degree.

His extensive knowledge and proficiency in these areas have earned him the trust and admiration of the management at Laugfs Group, leading to his well-deserved promotion as General Manager – Head of Strategy.

Agasthi said: "As a visionary entrepreneurial organisation, I am thrilled to embark on this journey of transforming the group towards a performance driven culture by driving strategy with numbers and targets.

It is a challenge that ignites my passion and fuels my dedication to my role within the esteemed Laugfs Group. Together, we will forge ahead, embracing new possibilities and propelling the group to unprecedented heights of success."

The establishment of the new Strategy Division marks a significant milestone for Laugfs Group.

It aims to bring an objective-based and systematic decision-making approach to the overall strategic direction of the conglomerate. This proactive decision highlights the management's commitment to professionalising the group's strategic vision, fostering a portfolio-based and performance-driven culture, and ensuring inclusivity and self-governance.

Moreover, the newly formed Strategy Division is set to expand Laughs' global footprint by exploring potential international expansion avenues.