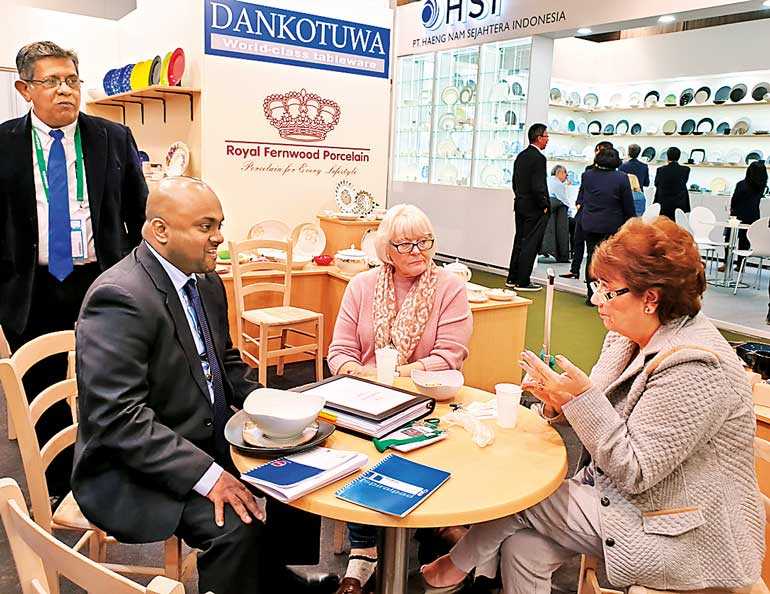 Dankotuwa Porcelain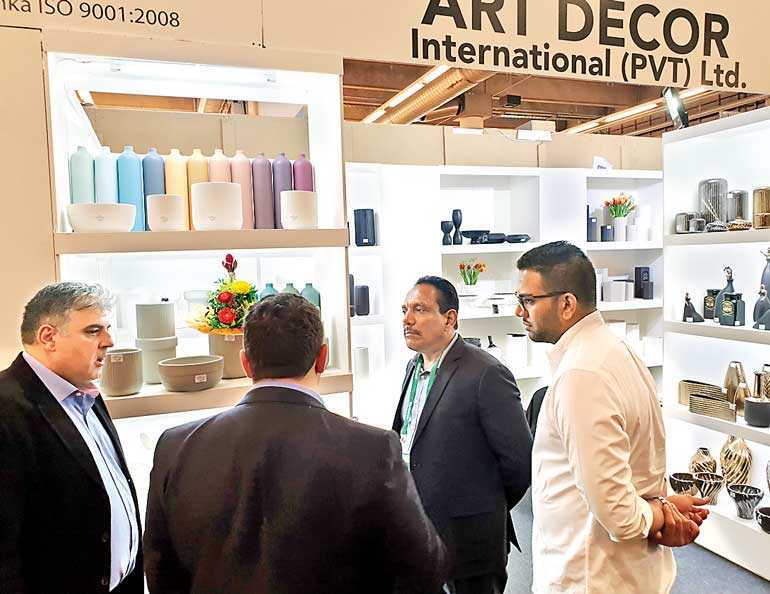 Art Decoration International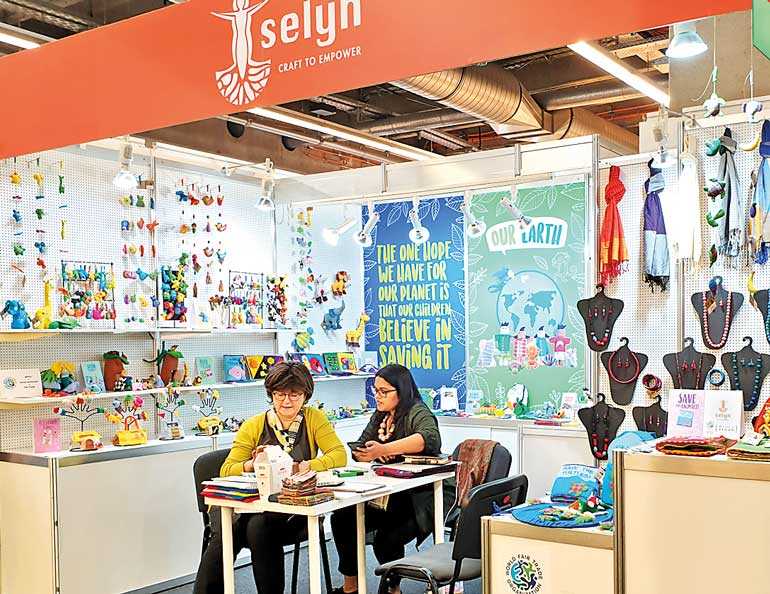 Selyn Exporters
World's largest 5-day consumer goods exhibition in Frankfurt, Germany is a proven platform to win international buyers, say 5 Sri Lankan exporters
By Nisthar Cassim in Frankfurt, Germany
Five progressive Sri Lankan companies are vying to boost exports by securing new buyers at Ambiente 2020, the world's largest consumer goods show ongoing in Frankfurt, Germany.
The companies are Dankotuwa Porcelain Plc (Hall 6.12) along with its sister company Royal Fernwood Porcelain Ltd., Art Decoration International Ltd. (Hall 9.2) specialising in decorative ceramicware; handloom products specialist Selyn Exporters Ltd. (Hall 9.3), wooden educational toys exporter Gospel House Handicrafts Ltd. (Hall 9.3) and artificial flowers exporter AMP Ceylon Ltd. (Hall 9.2).
They are among over 4,600 global exhibitors from over 90 countries participating at the five-day Ambiente 2020 organised by Messe Frankfurt. The trade fair began on Friday and ends tomorrow (Tuesday, 11 February).
These companies annually participate in Ambiente given its importance as well effectiveness in reaching new buyers but this year, as the Daily FT covering the mega global show in Frankfurt found out, expectations remain high given their ongoing or planned expansions to increase prospects of exports.
For all of them, Europe is either their biggest or one of the key markets whilst given the international stature of Ambiente, the trade fair is also a magnet for buyers from other parts of the world. They said apart from scouting for new buyers, Ambiente also enables them to showcase and meet existing customers and business partners.
Taking a 34-squaremetre stall Dankotuwa Porcelain and Royal Fernwood have displayed the widest collection of popular tableware as well as some new designs and products, including those with transparent colours and with reactive glazes, which let colours stand out, as well as porcelain water canisters discouraging use of plastics. 
The dinner sets on show range from $ 2,000 and above. On display include a showpiece set glazed with 24-carat gold and offering the best whiteness in the industry, which DPL is famous for, along with craftsmanship.
"Ambiente is the most critical for us," said Channa Gunawardana, the CEO of Dankotuwa Porcelain Plc, which has been a participant for over three decades. 
He said attendance in the first two days has been low due to the coronavirus impact on global travel but the majority of its European customers and those closer were visiting. DPL exports to over 50 countries whilst Fernwood services over 20 markets.
The Bandaragama-based Art Decoration International Ltd. (ADI), which specialises in decorative ceramicware, has also been a regular Ambiente participant since 1996.
Set up in 1992, the ADI has a production capacity of $ 8 million and some of it is being rolled out this year. It does around $ 2.5 million in exports and is positioning and marketing itself as South Asia's largest decorative ceramicware manufacturer.
Its product portfolio includes ceramic vases, pots, ornaments and figurines, candle and tea light holders, ceramic canisters and storage items, and dishes and platters. Domestically ADI has also ventured into sanitaryware under the brand auto bathware.
ADI Managing Director S.H.B. Karunaratne and Director Dilanga Karunaratne said Ambiente was a very useful trade fair to secure new buyers. It exports to over 40 countries, with Scandinavian nations being the biggest customers, followed by US, Europe, the Middle East and Australia New Zealand.
Among the Lankan companies at Ambiente are two World Fair Trade Organisation guaranteed exporters – Selyn and Gospel House Handicrafts.
The fact that both companies have been participating for many decades proves the success of Ambiente.
"For us Ambiente is responsible for 80% of our exports," says Selyn Exporters Ltd. Director Business Development Selyna Peiris. "Therefore, participation is critical and lets Selyn meet existing buyers and find new customers. Top global trade fairs also provide a platform to learn new trends."
The company specialises in educational toys made from handloom whilst at Ambiente it also displayed new products/toys that promote wildlife, environment and marine conservation as well as inclusivity.
Wooden educational toys exporter Gospel House Handicrafts Managing Director Shiran Karunaratne exports to 26 countries with a personal goal of adding one new market annually.
He identifies Ambiente as an important annual marketing initiative whilst Germany is a big market for Gospel House. Out of thousands of designs, the company is showcasing a few of the more popular and newer ones. Like all other Lankan exhibitors, Gospel House is also open to produce as per customer-inspired designs. At Ambiente this week he met an interested buyer from Norway, a market he hasn't yet served. "So I have set Norway as the new market to win in 2020," said Karunaratne, adding that Hong Kong was the latest acquired in 2019.
Spanning 310,240 square metres, Ambiente is the world's number one trade fair for products associated with dining, cooking, household items, furnishings and ornaments, interior design, gifts, jewellery and fashion accessories. Last year it attracted 136,000 trade visitors from 167 countries.
Messe Frankfurt is the world's largest trade fair, congress and event organiser with its own exhibition grounds. It is owned by the City of Frankfurt and the State of Hesse.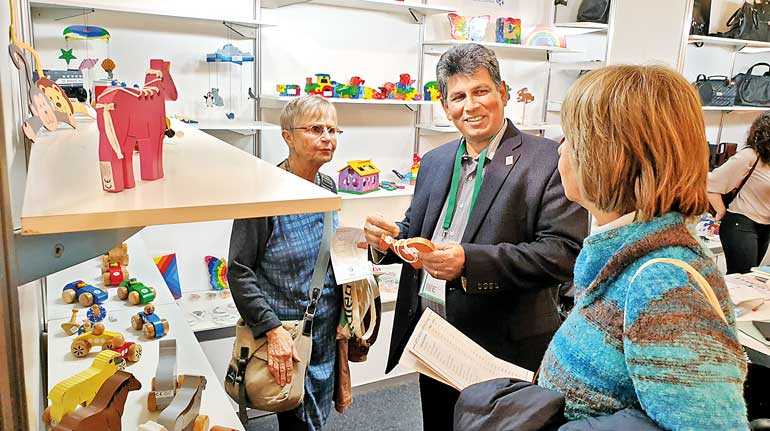 Gospel House Handicrafts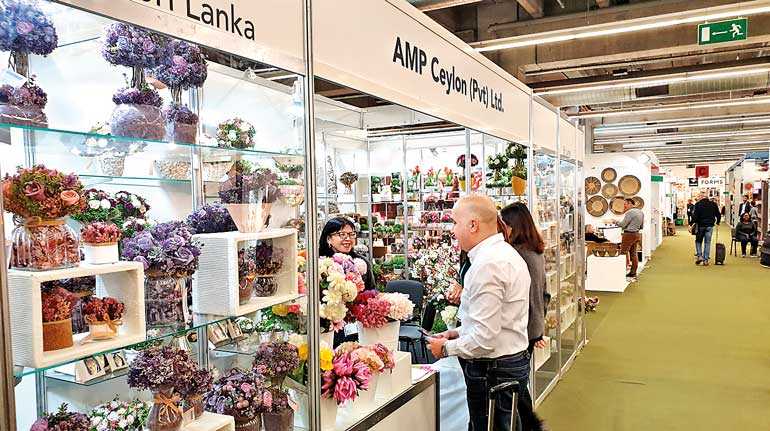 AMP Ceylon