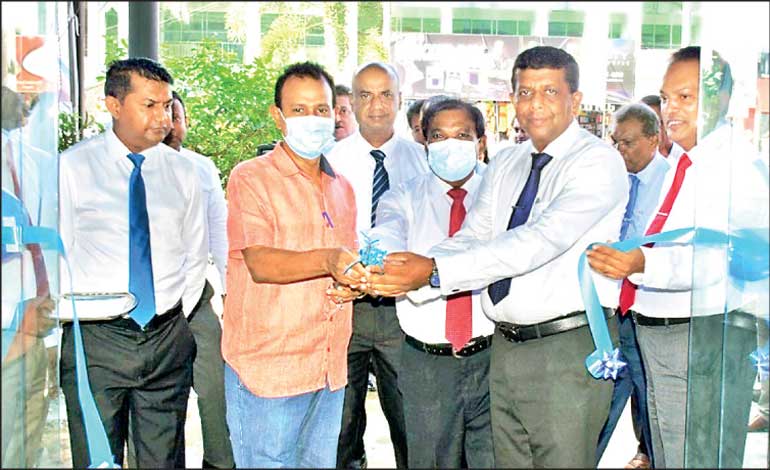 Kegalle Business Forum President Thissa Ranathunga, Co-op Land Mortgage Bank Chairman Anura Thennakoon and LCB Finance Chairman Professor Abeyrathna Bandara opening the branch
---
The 15th Branch of Lanka Credit and Business Finance was declared opened at No. 44, Main Street, Kegalle. Amidst a gathering of distinguished invitees and prospective customers in the area together with the LCB Finance Chairman, Emeritus Prof. W.M. Abeyrathne Bandara, Sanjeewa Motors Proprietor Sanjeewa, Kegalle Trade Society Chairman Tissa, LCB Finance Directors were there to colour the event.

LCB Finance Chief Executive Officer/Executive Director K.G. Leelananda stated that their ambitious business development and expansion plan including opening of seven more branches to reach network of 22 branches island-wide shortly.

They anticipate developing a savings habit among the general public in the catchment area of the branch, marketing their deposit products such as "Podiththa" for kids, "Rejini" for women, "Sihina" investment savings account, "Suva Divi" for elders and "LCB Diviyata Saviyak" for young entrepreneurs and fixed deposit accounts to meet specific terms of clients.

Through this branch the company expects to cater to the financial need by way of loans, lease facilities and gold loans as suitable to those involved in large and small-scale entrepreneurs such as clay industry, agricultural activities such as paddy, vegetables etc. and to develop such existing small and medium enterprises (SMEs) contributing towards uplifting the living standards of such entrepreneurs.

CEO Leelananda also expects to build up a healthy business relationship with the co-operative sector MPCS by way of short- and medium-term credit enabling them to meet the credit requirements of their member societies. Leelananda stated that opening a branch in Kegalle is another milestone to remain the most committed financer to the rural development.