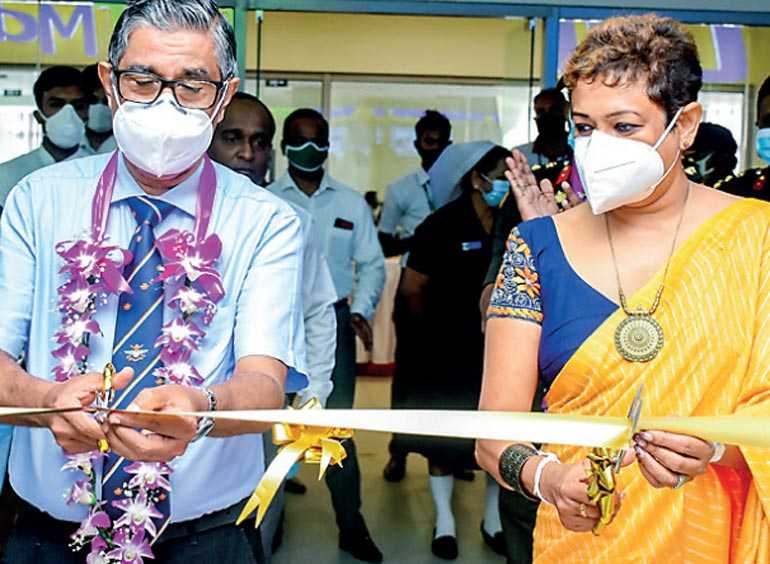 Senior officials at the opening ceremony
---
LAUGFS Supermarkets opened a LAUGFS SuperMart outlet within the premises of the University Hospital Kotelawala Defence University (UHKDU). The outlet caters to all individuals in the area, including medical staff, patients, defence forces and regular customers. The outlet was designed as a miniature supermarket, located within the hospital premises with a compact and easily accessible storefront. The opening of this outlet marks LAUGFS Supermarkets' 38th outlet across its nation-wide retail chain.

Established in 2017, the UHKDU is a fully fledged hospital complex built to be completely eco-friendly, extending across 56 acres in Werahara, Boralesgamuwa. The UHKDU also serves as a Teaching Hospital and has a diverse range of facilities consisting of over 800 beds, 20 operating theatres, a hybrid Cath lab, multiple laboratories and five ultra-modern intensive care units and an Oncology unit on par with international standards.

LAUGFS Supermarkets has been consistently expanding and improving their operations island-wide in order to meet the needs of as many households as possible. LAUGFS Super and SuperMart outlets across the nation rose to the challenge during lock-down by amplifying their operations further through establishing extensive hygienic and sanitary protocols, enhancing the scale of its online and phone deliveries and greatly expanding their network of deliveries.

Though being a mini-supermarket, the outlet will operate from 8 a.m. to 6 p.m. and has been stocked with a full range of daily essentials and groceries such as fresh produce, a wide variety of tea, coffee and soft drinks, dairy and frozen products, snacks, sweets, personal care and child care products as well as household items to specifically cater to the everyday needs of its clientele. In addition to this, LAUGFS SuperMart staff have been trained with an extensive range of hygienic precautions and are equipped with protective gear in order to ensure the safety of customers at all times.

LAUGFS Supermarkets Chief Executive Officer Lilanthi Herath commented, "We are proud to announce the opening of our newest outlet in the heart of UHKDU. As a trusted Sri Lankan brand, we at LAUGFS Supermarkets wanted to bring the premium retail experience and convenience of LAUGFS SuperMart to our clientele around the vicinity along with the new outlet being well-equipped to accomplish this."

LAUGFS Holdings Ltd. is one of the largest diversified business conglomerates and a trusted and well-loved home-grown business in Sri Lanka. Founded in 1995, LAUGFS today has expanded across 20 industries in Sri Lanka and overseas, establishing a strong presence as a leader and pioneer in the power and energy, retail, industrial, services, leisure and logistics sectors. With 3,500 employees and an annual turnover exceeding Rs. 60 billion, LAUGFS continues to expand and empower millions as a trusted Sri Lankan brand.