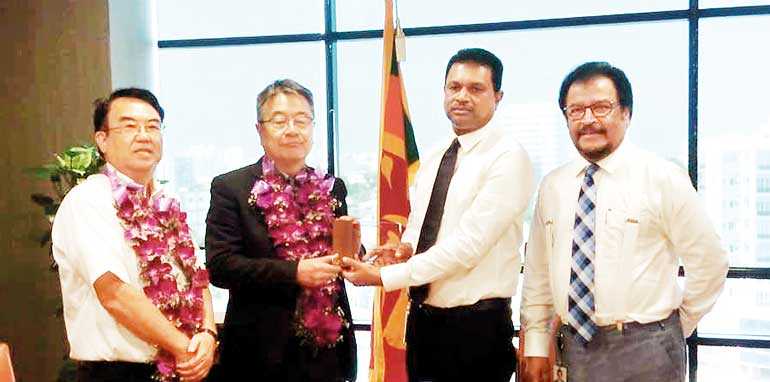 LAUGFS Holdings Chairman W.K.H. Wegapitya and Group Managing Director Thilak De Silva receiving the appreciation award from Airman Japan Director/General Manager Hitoshi Miyake
In commemoration of Airman's 80th anniversary held recently, LAUGFS International was recognised with an appreciation award for the exceptional performance showcased as a high performing distributor.

The anniversary celebrations took place following an official visit by Hitoshi Miyake, Director Airman Japan and Hitoshi Watanabe, Director and General Manager – Overseas Marketing at Airman Japan. Employees at LAUGFS International were recognised and rewarded for their outstanding contributions, while accolades were received in the presence of Watanabe and Miyake.

Since 2016, LAUGFS International has served as a distributor for the internationally recognised Airman power products portfolio, and has been providing original Japanese Airman generators within a 10KVA-555KVA range. The Airman portfolio has established a strong market in Sri Lanka with island-wide operations, providing high quality generators manufactured to suit urban environment conditions.

LAUGFS International has supported the Airman product portfolio through its 24-hour technical support and service made available throughout the island. Being a quintessential product range for industrial and commercial purposes, the company's in-house team of experts are equipped with comprehensive technical knowledge. They deliver continuous support to ensure LAUGFS International effectively caters to the growing industry demands by providing uninterrupted services within the industrial segment.

"We have been growing rapidly over the past two years with increased sales for the Airman power product portfolio in Sri Lanka. Our team has consistently backed the Airman portfolio with unwavering dedication to provide reliable generators with minimum noise levels. Receiving this appreciation award not only reaffirms our commitment to procure genuine and original international brands for our customers, but showcases our efforts to deliver high quality, consistent service towards our client base," commented LAUGFS International Chief Executive Officer Wasantha De Silva.

"At LAUGFS International, we feel it is imperative to provide customers with a diverse range of products and services. In S
ri Lanka, there is a strong demand for products manufactured in keeping with international quality standards and this is why we are delighted to be the authorised local distributor for an international brand name such as Airman. Having embarked on this journey over two years ago, we will continue our efforts to provide Airman branded products to the local market," he further remarked.

LAUGFS International is the trading arm of the diversified conglomerate, LAUGFS Holdings. Its portfolio includes Airman and Yamaha power products, Fujitsu batteries and Denso service parts. With its commitment to remain a trusted service provider and deliver service par excellence in line with international standards, the company procures high quality global brands. These include Yamaha generators, inverters, water pumps and engines featuring advanced technologies and quality materials.

In addition, it also offers Denso service parts for Japanese, Indian and European vehicles that adhere to stringent safety and quality standards. Fujitsu dry cell batteries including AA, AAA, C, D and Fujitsu coin batteries in zinc carbon, alkaline and rechargeable ranges further expand LAUGFS International's diverse product portfolio. LAUGFS International has showcased exponential growth since its inception in 2014 and has established a strong reputation for trading high quality products. LAUGFS is one of the largest diversified business conglomerates and a trusted name in Sri Lanka. Founded in 1995, LAUGFS today has expanded across 20 industries in Sri Lanka and overseas, establishing a strong presence as a leader and pioneer in the power and energy, retail, industrial, services, leisure and logistics sectors. With over 4,000 employees and an annual turnover exceeding Rs. 37 billion, LAUGFS continues to expand and empower millions as a trusted Sri Lankan brand.