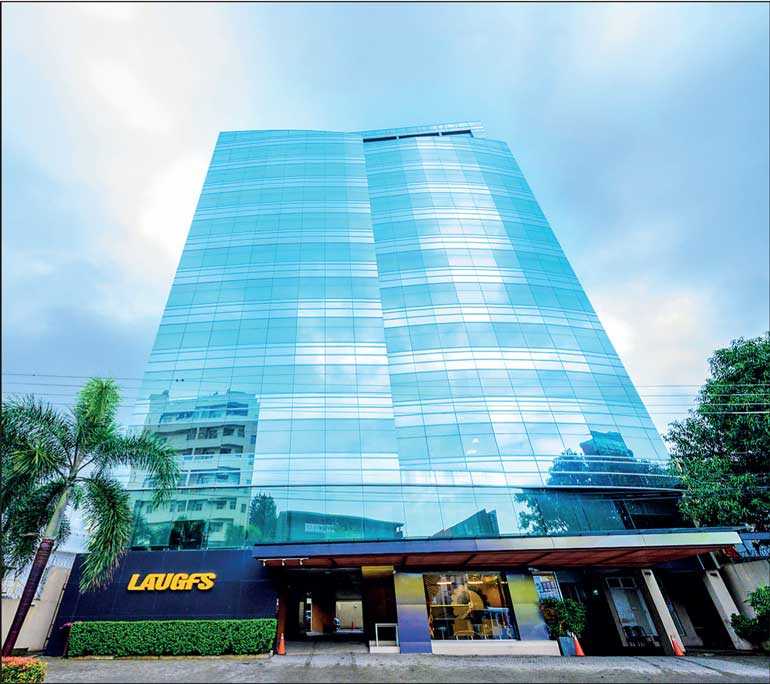 LAUGFS Corporate Office
---
LAUGFS Holdings Ltd., one of Sri Lanka's largest diversified business conglomerates, celebrates 25 years in business. Its inception was Gas Auto Lanka, a revolutionary business that introduced LPG as an alternate fuel for motor vehicles.

Propelled by this entrepreneurial spirit LAUGFS went on to become trailblazers in many industries in Sri Lanka. Currently the group is present in 20 industries and have expanded beyond Sri Lankan borders. Its annual revenue exceeds $ 300 million and is backed by an employee cadre of 3,500.

Speaking on the monumental occasion, LAUGFS Holdings Group Chairman W. K. H. Wegapitiya said, "25 years ago, we began our journey to draw out the infinite potential of our nation and its people. Though we had humble beginnings, we were filled with the determination to achieve greatness; 25 years later, we have touched the lives of millions of Sri Lankans and are a leading name across the industries in which we operate; moreover we have achieved an international presence for the 'LAUGFS' brand. We are proud to celebrate 25 years of our LAUGFS family along with our loyal customers and business partners who have supported us on this journey."

Though the origins of LAUGFS was Gas Auto Lanka established in 1995; in its 25 year journey, it evolved and diversified to progress from local to global. In the year 2000, LAUGFS opened the first 24-hour supermarket in Sri Lanka, in 2001, LAUGFS Gas initiated operations, signalling the beginning of rapid growth for LAUGFS across an industry that was formerly a monopoly.

With its strategic vision to become a dominant player in the LPG industry LAUGFS set on to create an overarching LPG supply chain; from trading to shipment, storage and transport. In line with this vision the group acquired three seafaring vessels; Gas Challenger, Gas Success and Gas Courage which are used in the transportation of LPG. Moreover LAUGFS owns the largest LPG Transhipment Terminal in South Asia, located within the Hambantota Port and operated under LAUGFS Terminals.

Between 2004 and 2010, the group continued to establish a multitude of strategic business units across multiple industries. LAUGFS Petroleum, LAUGFS Corporation (Rubber), LAUGFS Salt & Chemicals and JADE Restaurants were founded during this time frame. In 2008 Eco Sri began operations in cooperation with the Government of Sri Lanka to engage in vehicle emission testing across the island, with the forward thinking vision of a greener tomorrow. LAUGFS Lubricants became Sri Lanka's first local lubricant brand, making it another industry first for LAUGFS.

"We wanted to be more than just another national corporate entity in the market; we wanted to truly drive the nation forward and extend the innovative zeal of LAUGFS across Sri Lanka and internationally. Our journey has been long and challenging but after two and a half decades of dauntless growth in the face of adversity, we are thrilled for LAUGFS's prospects over the next 25 years," said LAUGFS Holdings Ltd. Group Deputy Chairman Thilak De Silva, reflecting on the history of LAUGFS.

Setting its sights to the horizon, the group continued its expansion in the years that followed, with the establishment of LAUGFS Gas Bangladesh in one of the largest emerging energy markets in the region and SLOGAL Energy DMCC in Dubai as the energy trading arm of LAUGFS. Locally the group continued to extend its frontiers in the energy industry through its launch of LAUGFS Power, now operating multiple hydro and solar power projects in Sri Lanka, including the operation of the largest solar power plant in the country.

LAUGFS entered the Leisure industry with LAUGFS Leisure and the establishment of Anantaya Resort and Spa Chilaw, earning hallmark accolades for customer excellence which would go on to be achieved by its sister location; Anantaya Resort & Spa Pasikudah. The group is poised to move into a new era of revolutionary growth.

LAUGFS Holdings Group Managing Director and Group Chief Executive Officer Piyadasa Kudabalage, said: "The history of LAUGFS has always been driven by innovation, entrepreneurship and the willingness to take risks. As we work towards the future, we will continue to grow with these tenants at the core of our organisation and further enhance our operations towards empowering the growth of the nation."

In its pursuit of innovation, LAUGFS explores opportunities to enter into new industries and market segments as it plans its future growth strategies. Recently, the group has expanded into the healthcare industry through its establishment of LAUGFS Life Sciences Ltd. and LAUGFS Pharmaceuticals Private Ltd. LAUGFS Life Sciences has initiated its Intravenous (IV)-saline project with plans to develop other IV-related products in the future and LAUGFS Pharmaceuticals will be developing a range of pharmaceutical products.

Similarly, the group's strategic business units are consistently exploring new prospects and technologies for escalating and enhancing their operations as the entirety of LAUGFS gears itself for the next trajectory of its evolution.