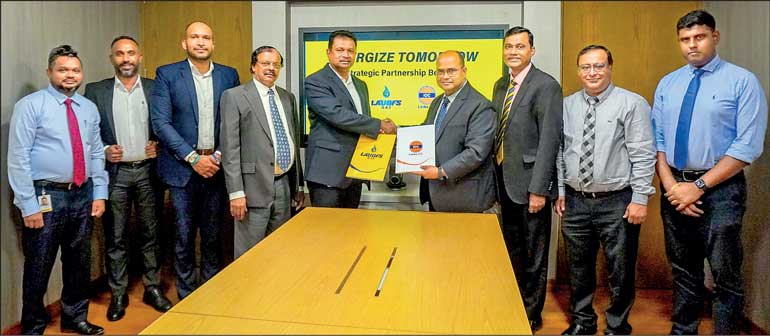 ---
LAUGFS Gas PLC, and Lanka IOC, have forged a strategic partnership to drive innovation, enhance operational efficiency, and elevate customer service standards for the local LPG customer base.

The LAUGFS Gas and Lanka IOC partnership envisions a future where extended service hours, available 365 days a year, become the norm, with LAUGFS Gas products readily accessible at all Lanka IOC stations. This partnership will also introduce a range of extended service offerings, further enriching the customer experience. By leveraging their expertise in their respective domains, both companies are committed to setting the standard in the LPG and petroleum product retailing industries.

LAUGFS Gas PLC Director/Cluster CEO Dr. Niroshan J. Pieries said: "We are pleased to partner with Lanka IOC a powerhouse of local petroleum industry as we look to the future as we continue to uphold and push the boundaries of innovation and collaboration in energy. With the coming together of these two titans of the industry, we aim to spark a change for a more efficient, customer-focused future to further satisfaction and ease of purchase."

Since its entry into the local LPG industry in 2001, LAUGFS Gas has experienced remarkable growth and has become a trusted brand synonymous with quality and consistency. With an extensive network of over 7,000 dealers and 31 distributors, LAUGFS Gas is well-positioned to meet the nation's energy requirements. This nationwide sales and distribution network is further supported by a modern fleet of LPG tankers and state-of-the-art 33000 MT storage and filling facilities in Hambantota and Mabima, both operated with the highest international safety standards.

Lanka IOC Managing Director Dipak Das said: "We are pleased to partner with LAUGFS Gas on this exciting venture. Together, we share a vision of a future where convenience knows no bounds. This partnership is not just about offering convenience; it's about enhancing the overall customer experience. We are committed to introducing a range of extended service offerings that will redefine the way our customers interact with us. By combining our expertise in the LPG and petroleum product retailing industries, we aim to set a new standard, one that puts the customer at the forefront of everything we do."

The LAUGFS Gas and Lanka IOC partnership represents a strategic alignment of industry leaders dedicated to shaping a brighter, more efficient future for Sri Lanka's energy landscape. Together, they will propel the nation towards a more sustainable and customer-centric energy future.