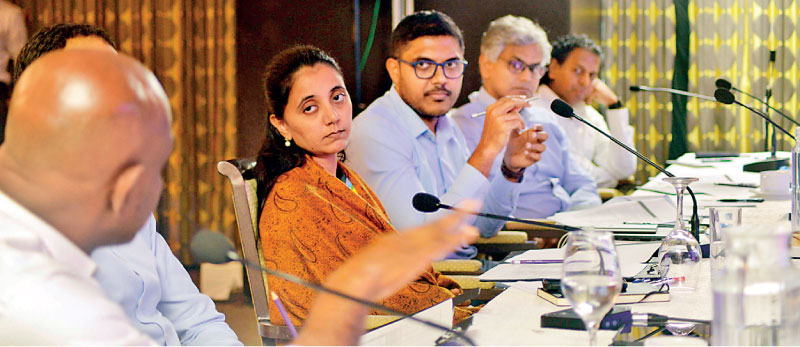 Panel of judges in discussion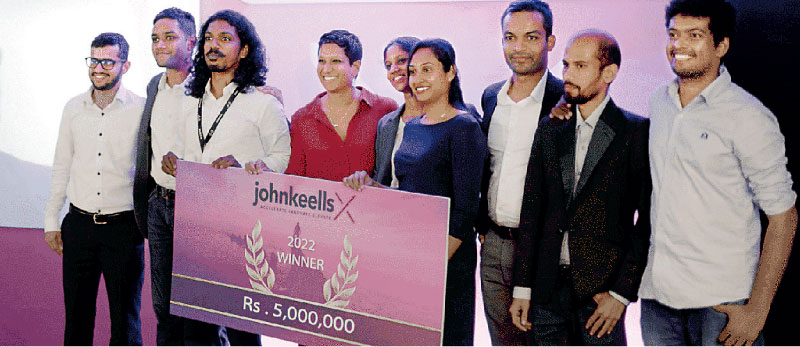 Winners of JKX Accelerate 2022
---
John Keells X (JKX) is a startup accelerator and open innovation program that has been helping startups obtain funding, receive training and the right connections to scale and grow into successful companies.

JKX recently conducted "JKX Accelerate" Demo Day, following the Pre-Accelerator Program for startups. The event saw 12 startups pitching to a panel of judges comprising corporate leaders who selected 6 of the startups as winners and for funding up to Rs. 50 million, along with entry into the accelerator program.

The six winners selected were EzShip.io, an end-to-end courier service aggregator for e-commerce businesses; Kommon Poll, a social listening tool and analytics platform; Rhoda, delivering innovative electric mobility solutions designed and built in Sri Lanka; Balamu, an immersive mobile travel audio guide for Sri Lanka; ShopBook, helping small and medium businesses to transform their physical ledgers to digital; and Gavesha Labs, a startup with a vision to empower STEM education through technology and help reduce barriers for kids in accessing tech education.

The Pre-Accelerator Program hosted an array of informative webinars, in-person workshops, and meetups covering crucial topics including Accounting and Finance, Legal and Intellectual Property, Marketing and Branding, and Corporate Finance. Each session was hosted by the leadership or management team of the relevant John Keells Group departments. A webinar series on "Disciplined Entrepreneurship" was hosted by Marius Ursache, the lead trainer for JKX, a teaching fellow and mentor at MIT, and entrepreneur in residence at Techstars.

The panel of judges comprised of JKH Chairperson Krishan Balendra, Deputy Chairman Gihan Cooray, McKinsey and Company Partner Vidhya Ganesan, JKH CIO/Executive Vice President Ramesh Shanmuganathan, WS02 Founder, Director and CEO Sanjiva Weerawarana, and PickMe Founder and CEO Jiffry Zulfer.

John Keells X Head Wishanth Wijesinha who is also JKH Assistant Vice President said: "This year's pre-accelerator Program has been unique, given everything that transpired over the last six months. I am extremely impressed and proud of the founders who went through the program, committing their time and mind space to keep working on their startups. I am looking forward to working with all these teams moving forward, especially the winners who will enter the 6-month accelerator program with funding."

JKH CIO and JKIT CEO Ramesh Shanmuganathan "We launched JKX 4.0 with a view to create the next normal which is powered by collaboration, co-innovation and co-creation. We must explore and adapt unconventional methods to fuel value innovation by embracing modern concepts such as lateral thinking, persona-based journey mapping and design thinking by leveraging each other's strengths, collective intelligence and connecting the DOTS that can potentially create value looking into the future."

Past winners of the competition such as Blue Lotus 360, Helios P2P, SenzAgro, DirectPay and many more have flourished over the years. The successful growth of its alumnus is a testament to the remarkable impact that JKX has had since its inception. JKX Accelerate (accelerator program), Innovate (Open Innovation Platform) and Elevate (for scale-ups) tracks offer incredible opportunities for up-and-coming startups to jump-start their growth with the strengths of the John Keells Group.