The International Chamber of Commerce Sri Lanka (ICCSL) the domestic chapter of the Paris based International Chamber of Commerce in a statement yesterday congratulated President Gotabaya Rajapaksa, and Prime Minister Mahinda Rajapaksa on their resounding success at the General Elections.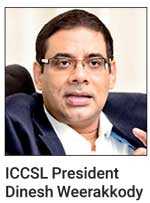 "The task of change is arduous amidst what has come to be known as 'The Fourth Industrial Revolution (4IR)'. In addition the country has not yet seen the end of the COVID-19 pandemic and no one knows when the world will see the back of it. It is in the midst of such challenges that ICC wishes to assure the Government of its complete cooperation and support. We look forward to working together with the Government and the new Parliament to support job creation and to develop trade, exports and attract FDI, using our global network of Chambers," ICCSL President Dinesh Weerakkody said in the statement.

International Chamber of Commerce (ICC) is the world's largest business organisation representing more than 45 million companies in over 100 countries. ICC's core mission is to make business work for everyone, every day, everywhere. Through a unique mix of advocacy, solutions and standard setting, it promotes international trade, responsible business conduct and a global approach to regulation. Its members include many of the world's largest companies, SMEs, business associations and local chambers of commerce.