CMA National Management Accounting Conference and Commonwealth Accountant Conference Breakout Sessions 3(c)
The third session of the CMA National Management Accounting Conference 2019 and Commonwealth Accountants Conference on 9 and 10 September will be a Breakout Panel Discussion consisting of four concurrent sessions. This Breakout session 3(c) will be on 'Industry Innovation and Infrastructure'.

The Chairman/Moderator of the session will be Adrian Perera. He is a Council member of CMA Sri Lanka. He was the Chairman of ACCA Sri Lanka, CPD Committee, Sustainability awards and Immediate Chairman of the Member Network Panel of ACCA Sri Lanka. The session will be Co-Chaired by Dr. Harendra Kariyawasam who is currently the Head of Accounting Department of University of Sri Jayewardenepura and a Council Member of CMASL.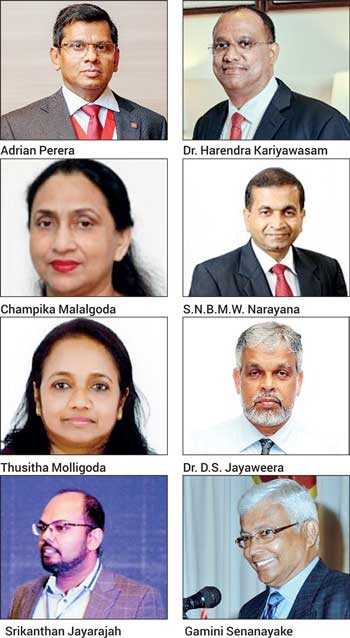 Champika Malalgoda is presently the Director General of Board of Investment of Sri Lanka (BOI). She has graduated from Law School in Sri Lanka Law College obtaining the Attorney-at-Law qualification in 1984. She will discuss the topic 'Provision of infrastructure to boost industry and set up Industrial Zones to attract FDI'.

S.N.B.M.W. Narayana is Assistant General Manager – SME at People's Bank. In his current position, he manages the SME development initiatives including SME portfolio development, project lending, development finance, customer training and internal staff training and development. He will discuss the topic 'Promote small scale industries, financing and integrating with value chains and markets'.

Thusitha Molligoda currently serves at Asian Development Bank in the capacity of Senior Private Sector Development Officer (PPP Focal Point). She counts over 22 years of working experience with the Asian Development Bank. She will discuss the topic 'Encourage and support sustainable public, private partnerships for infrastructure, industry, agriculture, exports and other sectors'.

Dr. D.S. Jayaweera is the acting Chairman of National Transport Commission. He has been awarded fellowship from Massachusetts Institute of Technology, USA in December 2000. He is also awarded two Masters, one from University of Colombo Sri Lanka on Computer Science in 1992 and another on Town and Country. He will discuss the topic 'Provide access to safe, affordable, accessible and sustainable transport systems for all'.

Srikanthan Jayarajah is the SLASSCOM Board Director and Head of the BPM Forum. He is a certified Project Management Professional from Project Management Institute, USA. Active Member of PMI, USA and PMI Chapter Sri Lanka. He will discuss on 'Infrastructure for IT, BPO industry Encouraging Innovation'.

Gamini Senanayake is currently the President of SCP Forum Sri Lanka. He is also serving as the Chairman of Regional Industry Service Committee (RISC) North Western Province under the Ministry of Industry and Commerce of the Central Government and as a Council Member of Wayamba University of Sri Lanka. He will discuss the topic, 'Encouraging Innovation and upgrading technological capabilities of industrial sector'.

Participants should indicate their preference in attending the Breakout Session of their choice in advance. They will also have an opportunity to obtain clarifications and direct questions to the panellists.

The conference is specially meant for Directors, CEOS, Management and Financial Accountants, Managers and Executives in Marketing, IT, Human Resource, Banking, Finance, Insurance, key management of state owned enterprises and government, lecturers of universities, technical colleges, professionals and others in industry, commerce, non-profit institutions and professional bodies.

Those interested to register for the CMA National Management Accounting Conference and Commonwealth Accountants Conference please contact Shanthi on 071 4705536 or email: [email protected] for special conference rates applicable to those applying on or before 3 September.