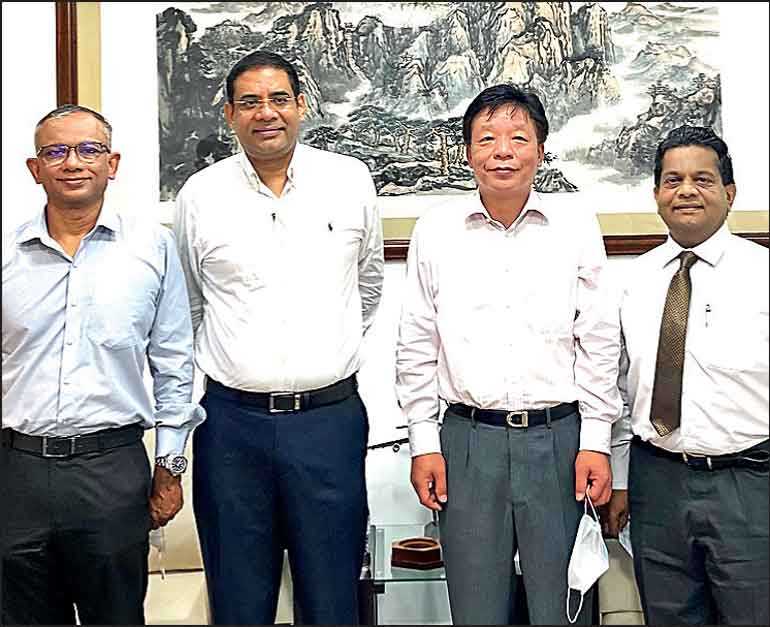 Economic and Commercial Counsellor Yang Zuoyuan with International Chamber of Commerce Sri Lanka Chairman Dinesh Weerakkody, Treasurer Sheanath de Zoysa and COO Ranjith Fernando at the Chinese Embassy in Colombo
---
The International Chamber of Commerce of Sri Lanka met with Yang Zuoyuan Economic and Commercial Counsellor of the Chinese Embassy last week to discuss , travel and trade restrictions for business visitors to China, Carnet Issuance, potential business opportunities, exhibitions and areas for business cooperation. The Counsellor reiterated that China is hopeful of normalcy in 2021.

The International Chamber of Commerce works with business groups worldwide including ICC China to represent the voice of businesses at the inter-governmental level, the United Nations and World Trade Organization.

The International Chamber of Commerce, founded in 1919, is the world's largest business organisation with a network of over 45 million members in more than 130 countries. ICC works to champion evidence-based policies to shape the multilateral trade and investment agenda as a driver of growth, jobs and development.