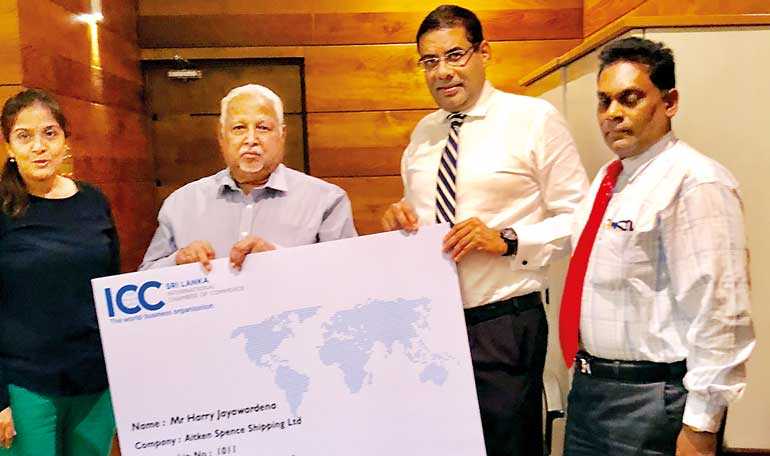 Harry Jayawardana receiving the ICCSL membership card for Aitken Spence from ICCSL Chairman Dinesh Weerakkody, while ICCSL Secretary Shanil Fernando and ICCSL COO Nihara Nanayakkara participated
The International Chamber of Commerce Sri Lanka for the first time introduced a Corporate Membership Card with privileges for the exclusive use of its members. ICCSL Membership Card was launched on 9 September at the "Most Admired Companies of Sri Lanka" awards ceremony that took place at Shangri La Hotel Colombo.

The holder of the ICCSL membership privilege card will have access to numerous discounts and privileges offered from their partner merchants. These discounts range from 10-40% from retailers such as Bata, DSI, DI, Hameedia, Exclusive Lines, US Polo, Singer, Dankotuwa, Galadari Hotel Colombo, Hilton Residencies, Cinnamon Hotels and Resorts, Amaya Resorts and Spas, Uga Residencies, Aminra Jewellers, Vogue Jewellers, Premedasas and Vision Care. AIA Insurance is the Exclusive Insurance Partner. Commercial Bank is the Exclusive Banking Partner and Asiri Hospitals is the exclusive Hospital Partner.

The International Chamber of Commerce Sri Lanka (ICCSL) is the domestic chapter of Paris based international world business organisation, the International Chamber of Commerce (ICC). ICC is the world business organisation, helping businesses of all sizes and in all countries to operate both internationally and responsibly. With a global network of over six million members in more than 100 countries, ICC works to promote international trade, responsible business conduct and a global approach to regulation through a unique mix of advocacy and standard setting activities – together with market leading dispute resolution services.