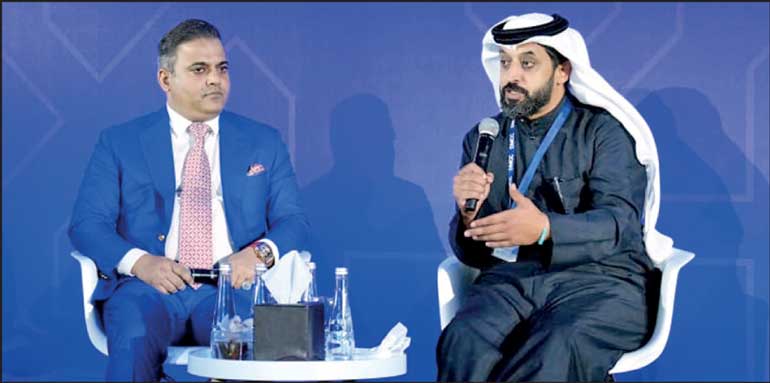 House of Ashish Vijay Founder and Chairman Ashish Vijay and DMCC Executive Chairman and Chief Executive Officer Ahmed bin Sulayem
ICA Congress on The Future of Coloured Gemstones was held in Dubai recently hosted by the Dubai Multi Commodities Centre (DMCC) Free Zone Authority on commodities trade and enterprise and Presenting Sponsor Ashish Vijay.

The four-day event witnessed a successful response from the global coloured gemstone community with industry experts discussing how to stay current on the geopolitical and social dynamics that are shaping the gemstone industry today.

House of Ashish Vijay Chairman and Founder and Presenting Sponsor Ashish Vijay said: "There is a huge potential for coloured gemstones industry to grow in Dubai. It is a financial hub that connects all of Africa, we are creating a platform that will help finance and connect small scale miners to get the goods directly in Dubai for auctions in DMCC. I believe this will have a strong impact on the coloured gemstones industry and support the growth of the idea of building a community right here in Dubai."

On the future plan for auction and tender for coloured gemstones in Dubai, Ashish Vijay said: "This year our upcoming tenders include diamonds, precious and semi-precious stones. This is the first time it is happening and when concluded successfully, it will be a great addition to the achievements of DMCC and Dubai. We are also working towards a joint venture between House of Ashish Vijay and ICA to conduct tenders and auctions in DMCC." "I have been part of DMCC for the last fifteen years with my companies and business activities based out of this city, the unimaginable ease of doing business and focusing on growth can only come when you have an environment that works to develop proper channels for your success. There is no doubt that the coming years will witness Dubai as the centre for the coloured gemstones industry where miners, traders and manufacturers create an encouraging atmosphere for the future," he added.