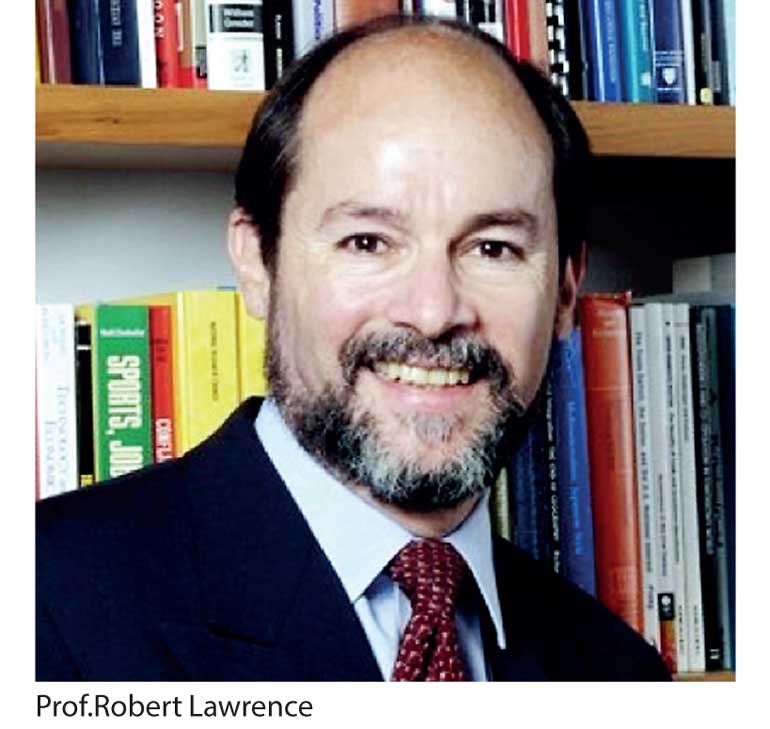 By Himal Kotelawala

Making a compelling case against tariff regimes, renowned Harvard economist Dr. Robert Lawrence yesterday called for a simpler system with significantly lower tariffs in order to increase Sri Lanka's exports.

Delivering a lecture on protectionism organised by the Advocata Institute in Colombo, Prof. Lawrence, who is the Faculty Chair of the Practice of Trade Policy program at Harvard University's Kennedy School, said that imposing tariffs is the wrong way to raise revenue, highlighting the need for tax reforms with an emphasis on direct taxes such as income tax and property taxes.

"There is no rationale for most of these tariffs," said Prof. Lawrence, adding that historically, imposing tariffs has been more a case of who exerted the most political influence rather than any calculated economic strategy - hence the need for a simplification of the system.

"When you increased trade protection, your imports went down, as did your exports," he said, pointing to a strong correlation internationally between reduced tariffs and increased exports.

Prof. Lawerence did however concede that there can be exceptions to any planned removal of tariffs, but such exceptions he said have to be "clearly understood" and should only be made for industries with significant adjustment difficulty and for those with actual long-term growth potential.

"Both of these exceptions should be very carefully monitored to ensure they're meeting the goals that make them worthy of exemption," he said.

In a Q&A that followed the lecture, moderated by the CEO of JB Stockbrokers Murtaza Jafferjee, Prof. Lawrence noted that policy uncertainty presents a risk.

"Where you have a tariff structure that is continuously changing, the investors don't have the foggiest idea what they're long running cost structure is," he said, adding that creating an environment that is secure with respect to policy is critical, particularly for foreign investors.

Touching on the notion of export dynamism leading to high wages, Prof. Lawrence said economic growth and an increase in productivity are going to allow firms to pay higher wages.

"A country that's geared towards exports is going to be more productive. A country that's getting out of its less efficient activities is also geared to be more productive. [This] transformation of the economy is going to facilitate higher wages."

Posing a question on possible solutions to the trade deficit, Jafferjee asked the visiting professor if there was any truth to the notion that increased exports led to a reduced deficit.

"Fundamentally, a trade balance or the current account is a reflection of the spending patterns of the nation. It tells you the country with a deficit is borrowing, that it's not saving enough domestically, and that it can't finance its own domestic investments.

"One component of this would be fiscal policy. If the Government saved more and ran surpluses, and if private citizens saved more, the country would have a smaller trade deficit. Those are the good ways to do it. The bad way is to invest less," he said.

Commenting on the recently signed Free Trade Agreement (FTA) with Singapore, Prof. Lawrence said one of the good things about the agreement was that it was the kind of trade agreement that would require implementing changes in domestic institutions.

"The best kind of trade agreements are ones which get you to implement policies that are good for you in any case. An example critical for this country is to have a system of trade remedies to deal with unfair trade. There ought to be measures domestically put in place."

Questions concerning transparency of Government regulations, developing e-commerce, maintaining standards such as food safety regulations, etc. and all be part of such an agreement, he said.

"A broad agreement like that can ultimately make you competitive," he said, noting that such FTAs allows signatories to go beyond the World Trade Organisation's (WTO) trade facilitation agreement.

Asked whether a waiver of tariffs on imported raw materials might result in a net loss to the Government in the absence of industries backed by loans from development banks similar to those in countries like Taiwan, Japan, Korea and China that engage in value-added exports, Prof. Lawrence said that while Sri Lanka does have a sophisticated capital market, perhaps a case could be made for a need to supplement it with some governmental finance. However, he was not of the view that that was the secret to the success of the Asian examples cited in the question.

"There are many other countries that have investment banks that haven't grown as well. Also, it's hard to judge what you're really competitive in and what you could really add value to when you're putting penalties on firms by giving them costly inputs. I have more optimism than you do about the potential for Sri Lanka entrepreneurs to find profitable export opportunities if you create a favourable environment," he said.

"If you look at Asia, it wasn't simply the removal of the barriers to import but there's very close collaboration between the firms and the Government," he added, highlighting the State's role in providing infrastructure and other facilities important to export success.

"In Sri Lanka, I don't see a lot of partnerships between the private sector and the public sector working for a common purpose," he further said, calling for broader collaboration in industrial policy approaches.

Dispelling the myth that a firm needs to be domestic in order to export, both Prof. Lawrence and Jafferjee stressed that firms that are able to operate across borders and still make a profit were the most efficient.

"Take Singapore, a country with a huge number of foreign investments. What you would like is for the foreign investors to bring the knowhow and for domestic firms to learn [from their examples]. Attracting foreign investment is a key ingredient. There are far too few foreign firms and far too few immigrants in Sri Lanka," said Prof. Lawrence.

Jafferjee also directed a question at the guest speaker, to share his views on what he called "a national obsession" to add more value to Sri Lanka's exports.

Said Prof. Lawrence: "It seems to follow since value added per worker is high in a rich country. What's striking is China seems to have done rather well by assembling components from other parts of the world. They have started on global supply chains. Doing it in great volume can accumulate into great value. [Here, the professor interrupted his own thoughts to quip that para tariffs is a word invented in Sri Lanka]. Sometimes it makes more economic sense to add more value to the raw material, but not always. If you know how to grow coffee, it doesn't mean you know how to operate Starbucks."

The thinking behind value addition can have unintended consequences, he said. For example refining copper ore could result in a status quo where the economy is going to be increasingly vulnerable to the price of copper.

"Adding value doesn't make them more diversified but rather more concentrated and more dependent on the price of copper," he said.

"Don't think vertically. The market works in mysterious ways," he added.

Asked how to convince the more often than not vociferous pro-protectionist lobby in Sri Lanka, Prof. Lawrence recommended a concerted reform process in which all parties agree on the principles and goals and be flexible on the timing.

"You have to do it in a concerted and clear strategic way. If you try to take them piecemeal and individually you'll lose the battle. Without an ultimate goal and a transitional strategy to get there, you'll have a lot of trouble taking those sectors individually," he said.