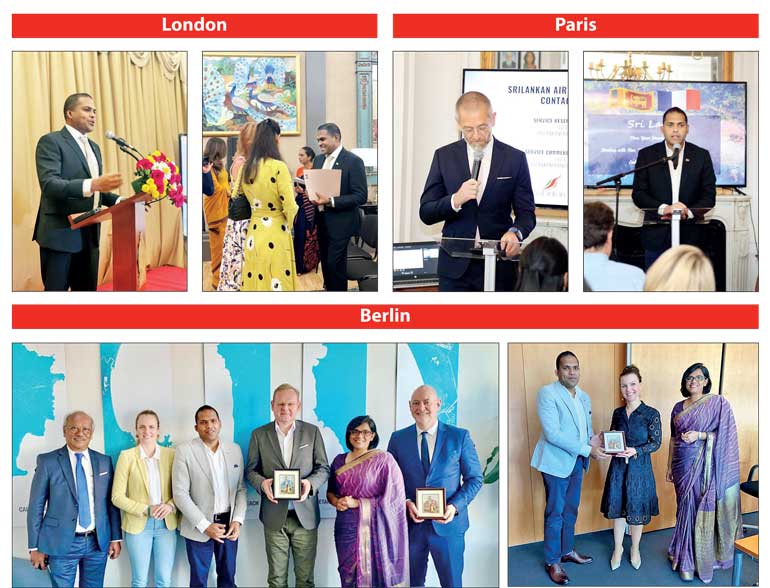 Meets travel trade, foreign envoys in London, Paris and Berlin
VPs of Lonely Planet and Wanderlust Magazine address gathering in UK
---
Tourism Minister Harin Fernando holds special discussions with travel agents and foreign envoys in the UK, France and Germany to promote Sri Lanka.

Minister Fernando, who was in the UK on a private visit, had appealed to the travel industry there to promote Sri Lanka and to help the hard-hit economy to recover from the ongoing economic crisis.

Sri Lanka High Commissioner in the UK Saroja Sirisena has made arrangements for the Minister to engage with the travel trade.

The Vice Presidents of Lonely Planet and Wanderlust Magazine has also addressed the gathering in the UK.

The Tourism Minister has also held successful meetings in Paris with tour operators and other stakeholders to promote Sri Lanka.

The Minister called on the assistance of Sri Lankan Ambassadors, High Commissioners, officials of the foreign missions, and tour operators to help revive the most-impacted tourism industry in Sri Lanka.

He also acknowledged the support extended by Embassy in France and the national carrier – SriLankan Airlines for making the Paris event a success.

Fernando also held successful meetings in Berlin to promote SL tourism and met with

Jana Schimke, MP chairing the Parliament tourism committee and had a an interview with Deutsche Wella news. He also met with the head of the German Travel Association.