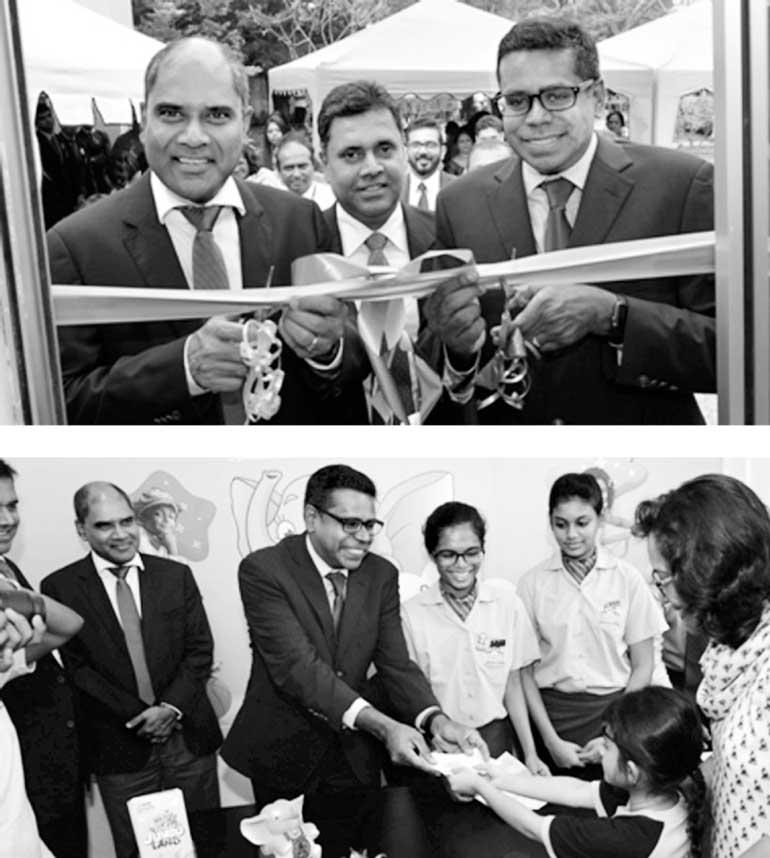 Hatton National Bank (HNB) PLC earlier this week announced the opening of a new Student Savings Unit at Gateway College, Colombo, with the objective of inculcate the habit of saving in children.

The new unit was declared open by Gateway Group Chairman Dr. Harsha Alles and Managing Director Rohini Alles together with senior officials from HNB including HNB Chief Operating Officer Dilshan Rodrigo and Deputy General Manager, Retail Banking, Sanjay Wijemanne.

Addressing a gathering of students and teachers who had come together for the ceremonial opening of the new student savings unit, Rodrigo highlighted the importance and value of cultivating the habit of saving from a young age.

"It is a true pleasure for all of us at HNB to further strengthen our relationship with Gateway College that has been at the forefront of education in Sri Lanka. Our two institutions share a common passion for improving the lives of children and helping them to achieve their aspirations. We are driven to digitalise education in Sri Lanka and are grateful to Dr. Alles for his input and active involvement in this journey.

"As student managers of the Gateway Student Savings Unit, you will learn about financial discipline and develop an entrepreneurial spirit, traits that will stay with you for life. While our HNB team at Rajagiriya will be on hand to assist, teach and guide you, ultimately this is your bank, and as bankers you are in charge and we are confident that you will do your family, your school and yourselves proud," he said.

Student Savings Units were first introduced to the Sri Lankan banking landscape by HNB in 1994. Since then, the bank has expanded its service to cover 153 Students Savings Units across Sri Lanka. Through the units, student managers are groomed to take leadership in running a mini bank in school and get actively involved in promoting the habit of saving among fellow students. The bank trains over 1,000 students annually in this capacity.

Elaborating on the strategic emphasis the school has placed on digital empowerment, Dr. Alles said: "When it comes to education, it is vital for all progressive institutions to keep an eye on the past in order to safeguard and enrich our values and culture, while also keeping an eye to the future in order to ensure that the direct and indirect lessons we teach can be learned and applied in the context of an increasingly complex world.

"The launch of our HNB Student Savings Unit therefore serves as an important milestone in our journey towards creating and maintaining an educational environment that energises both body and mind, while empowering our students to adapt to the changes brought about by breakthrough technologies," he said.

The launch of Gateway's own HNB Student Savings Unit follows the establishment of HNB's proprietary card HNB SmartPay at the school, to serve as a both as a school identity card for recording and monitoring of attendance and as a key to a cashless payment system within the school, enabling students to quickly and conveniently pay school fees and carry out other transactions at authorised locations in the school including the school canteen and bookshop.

The card – which leverages Near-field Communication (NFC) technology for greater user convenience will also be enable students to make payments at selected partner outlets including Hameedias, enabling students to routinely benefit from the convenience of cashless payments even for such tasks as purchasing of school uniforms.