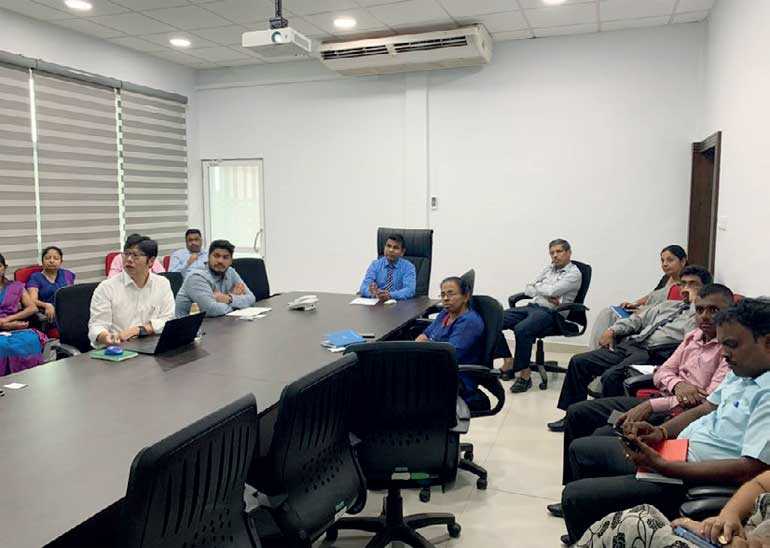 Deputy General Manager of Planning and Design Lasantha Weerasekara, Tian Xian Yong from Ace Water, Sudesh Dias of H2O1 and officers from the Water Board
---
H2O One and its Singaporean technical partner Ace Water met with Deputy General Manager Lasantha Weerasekara and staff members at the National Water Supply and Drainage Board (NWSDB) headquarters at Ratmalana. The H2O One and Ace Water team also met with the officials of Central Environmental Authority (CEA) and leading private sector corporates as part of the visit.

In today's environment, where the availability of potable water (i.e. safe drinking water) is a rising challenge, water conservation and recycling has become a strategic imperative for developing countries including Sri Lanka. The introduction of innovative and cost-effective water solutions is of critical importance as underscored by the UN sustainable goal for 'Clean Water and Sanitation' being ranked prominently at sixth place.

The Ace Water and H2O One team have discussed the possibilities for the introduction of new technologies such as MBR, MBBR, SBR, CAS, USAB. Furthermore, they also discussed the Singapore NEWater Reclamation, design of large scale anammox plants, pilot scale forward osmosis research and low energy utilised systems. Design capacity of the plants ranged from around 5m3/day to 136,000 m3/day.

H2O One is at the forefront of introducing new water technology to provide cost effective solutions in the Sri Lankan markets working closely with global and regional industry leaders. For more information with regards to solutions contact Projects Engineer at H2O One on [email protected].