From left: DSI Footwear Director Dilshan Rajapaksa, Target Agriculture Compliance Manager D.M.D.L. Saranga, Moderator German Industry and Commerce in Sri Lanka Chief Delegate Andreas Hergenrother, Delegation of the European Union to

Sri Lanka and Maldives Head Denis Chaibi and Aqua Dynamics General Manager Lalindra Fernando

Pix by Ruwan Walpola
---
The Delegation of German Industry and Commerce in Sri Lanka (AHK Sri Lanka) and the Friedrich Naumann Foundation for Freedom (FNF) in Sri Lanka co-organised a Kick-Off conference on their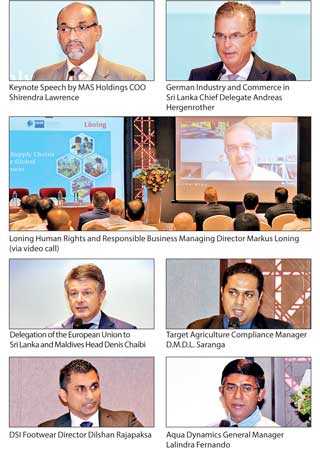 initiative 'Sustainable Supply Chains as driver for global

competitiveness'.

Already today, market access to the EU is related to strictly documented compliance with certain sustainability standards covering social and environmental aspects. The initiative aims to raise awareness for the need of sustainability related documentation with Sri Lankan exporters in order to increase global competitiveness of Sri Lankan companies and to facilitate market access to the EU

and US.

In a series of trainings, assessments and certification targeting the sectors of apparel/textile, rubber, and food/agriculture, the consultancy of the former Human Rights Commissioner of the German government Markus Loening will train Sri Lankan companies' representatives how to comply with global and EU-related sustainability standards. Many Sri Lankan companies already comply with these standards but are unaware of the requirement of formal documentation.

In the frame of his keynote speech MAS Holdings COO Shirendra Lawrence pointed out how important the transparent compliance with sustainability standards was, to become the largest apparel company in South Asia and a global leader.

During the panel discussion with company representatives of the targeted sectors of apparel, rubber and food, EU Mission to Sri Lanka and Maldives Head Denis Chaibi underlined the importance of the ongoing regulation process on sustainability standards in the EU and its member countries. Furthermore, he emphasised that the GSP+, under which Sri Lankan exporters can export a wide range of products custom duty free to the EU, is among other related to the compliance to international labor standards.

German Industry and Commerce in Sri Lanka Chief Delegate Andreas Hergenroether stated: "The major reason to partner for the initiative was to support Sri Lankan exporters to obtain broader market assess. Sustainability standards are a reality. They are partially politically driven, but they are also more and more customer and industry driven. Besides the existing official legally binding standards, European importers require more and more consumer driven standards like Fairtrade, Compliance +, Good Manufacturing Practices, etc."

Friedrich Naumann Foundation Head of Sri Lanka and Bangladesh Office Hubertus von Welck furthermore explained the need to RESTART the economy, to overcome the impact of the pandemic, for that we support export-led companies in strengthening their competitiveness. Compliance to standards set out in the 'UN Guiding Principles on Business and Human Rights' takes an effort but will be profitable for companies in the end.