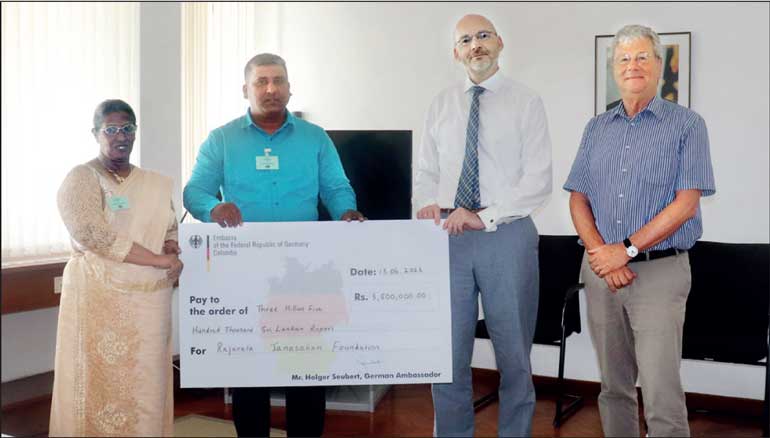 From left: Rajarata Janashana Foundation Chairman Ashoka Indika Wickramage, Treasurer Padumalatha Kumarasinghe, German Ambassador Holger Seubert, German Embassy Head of Culture Uwe Freuck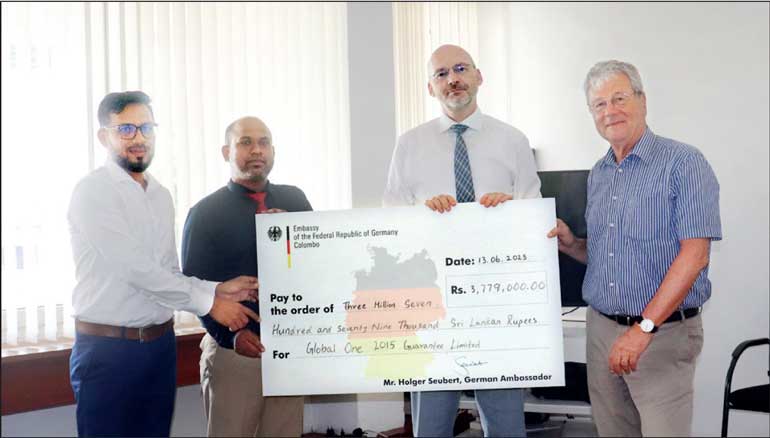 From left: Admin and Finance Manager Nashar Roshan, Global One Director Mohamed Ansari, German Ambassador Holger Seubert, German Embassy Head of Culture Uwe Freuck
---
The German Embassy in Colombo, under its micro project scheme, signed two small-scale projects recently as part of its efforts towards community development and livelihood support.

The project signed with Rajarata Janasahana Foundation aims to empower poverty-stricken communities in two villages of Mihintale, Ambathalagama and Thambuththegama Janajayagama in the Anuradhapura District.

A Grant of Rs. 3.5 million will be utilised to cultivate Turmeric as commercial cultivation for sustainability among low-income farmer women and men. Importing of turmeric is restricted which has led to a shortage of Turmeric in the country. With the local demand that is created, the beneficiaries will have the opportunity to create a stable income for themselves with the turmeric cultivation. The agreement for this project was signed on 13 June at the German Embassy between German Ambassador Holger Seubert, Rajarata Janashana Foundation Chairman Ashoka Indika Wickramage and Treasurer Padumalatha Kumarasinghe.

The Embassy also allocated financial assistance of over Rs. 3.7 million to provide 30 canoes for women who are engaged in the seaweed and mussels collection in Kuchchaveli, Trincomalee. With Global One implementing this project, we hope to see the expansion of women led communities by strengthening their independence, broadening their knowledge of the marketing field as well as increasing their family income.

The agreement for this project was also signed recently at the German Embassy between German Ambassador Holger Seubert, Global One Director Mohamed Ansari and Admin and Finance Manager Nashar Roshan.