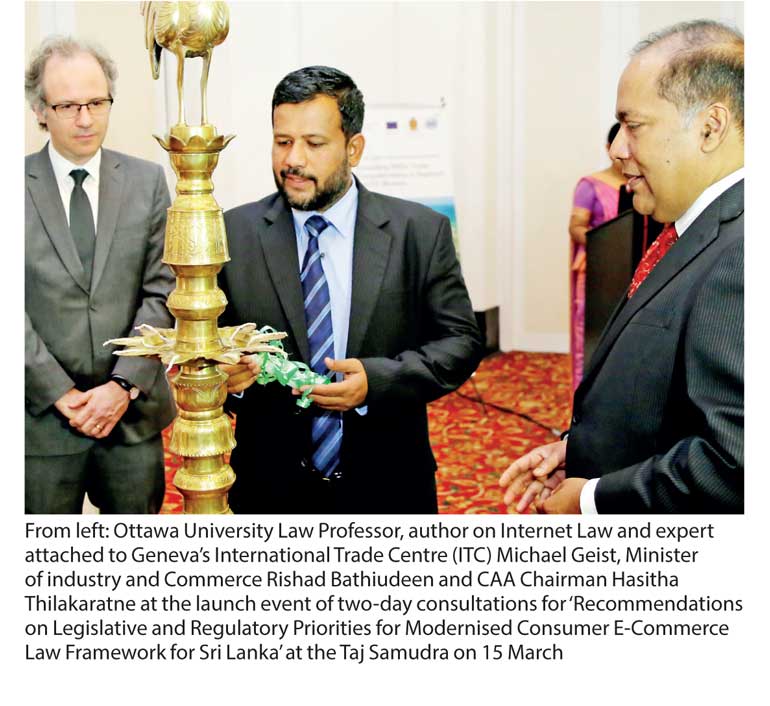 First national consultation for new e-commerce laws opens, brings leading stakeholders together
SL has high use of internet and smartphones but very low on e-commerce: RishadSays only 1% using e-commerce
Geneva's ITC and EU behind landmark national initiative by CAA
Open more local payment gateways if you want to develop: ITC Expert Prof Geist
Sri Lanka's internet and smartphone use has grown to a considerably high level in recent years, but e-commerce users among them are still low.

Meanwhile, Geneva's International Trade Centre has called for expanding Lankan e-commerce payment facilities beyond the present set of few large financial institutions so that more Lankans can get online to transact.

"Despite the high rate of smart phones, social media use and the high potential for e-commerce in Sri Lanka, the use of our e-commerce is still at low levels and at low penetration," said Minister of Industry and Commerce Rishad Bathiudeen yesterday on 15 March, addressing the launch event of the two-day 'National Public Private Dialogue for a Fairer Digital Marketplace' by the Consumer Affairs Authority (CAA).

The event is supported by the European Union and Geneva's International Trade Centre (ITC). Joining the Colombo event (held to coincide with International Consumer Rights Day of 15 March) was CAA Chairman Hasitha Thilakaratne and Ottawa University Law Professor and author on Internet Law Michael Geist (Full Professor, University of Ottawa and Canada Research Chair in Internet and E-commerce Law), who is also an Expert attached to Geneva's International Trade Centre (ITC) and sits on the Board of CIRA (Canadian Internet Registration Authority) which manages Canada's .ca domains.

Among the other participants are regulatory agencies, policymakers in ICT, industry organisations, university academics, researchers, digital service providers, online retailers, and digital commerce consumers. Eminent speakers from various sectors of the e-commerce industry are making their presentations. "Sri Lanka has been ranked high on e-commerce in the Top 10 Developing and Transition Economies in East South and Southeast Asia by the 2017 UNCTAD Business to Consumer E-Commerce Index Report. Sri Lanka's 'overall rank' in this report is 73 out of 144 countries. New York-based internet research firm STATISTICA estimates 25% of Sri Lankans are using all types of social media including Facebook," said Bathiudeen.

He added: "Sri Lanka's annual domestic 'e-commerce only' sales value is around an estimated $ 19 million or an estimated Sri Lanka Rs. 3,000 million. This means only 1% of our total consumer sales in the domestic market is done though e-commerce sales. The biggest reason for the small size of our e-commerce platform is that the Lankan e-commerce industry is still in its early stages with the need for many more new startups to join it and expand it. Also e-commerce startups are not receiving the required levels of support from banking and finance sectors since when it comes to e-commerce and payment gateways the level of financial and banking regulations are very high and, require urgent deregulation at least for our 'fin-tech' so that more retail startups come from the e-commerce platforms. Perhaps the most important reason is that Lankan consumers despite showing a very high rate of smart phone use are going slow on e-commerce transactions is due to their fear on the unsafe nature of online sales, on their online safety as well as lack of protection of their online data.

"Today's pioneering public private stakeholder dialogue organised by the Consumer Affairs Authority with the support of the European Union and Geneva's ITC is therefore well positioned for creating Sri Lanka's pioneering recommendations on key legislative and regulatory priorities for establishing modernised consumer e commerce legal framework. Today's dialogue is also the launch event for advancing our e-commerce in par with international best practices so that a strong foundation is laid for Sri Lanka to become a high tech digital hub in Asia supporting the development vision of the unity government and supporting United Nations guidelines that says the Government should work towards consumer confidence in e-commerce by the continued development of transparent and effective consumer protection policies. We thank Geneva's ITC and European Union for the support extended to this pioneering national effort."

ITC's expert Prof. Geist highlighted the key bottleneck faced by Lankan e-commerce. "I express my great honour and thanks to Minister Bathiudeen for joining us. It is exceptionally encouraging to hear his recognition of the tremendous e-commerce opportunities as well as challenges presented in Sri Lanka," said Professor Geist.

He added: "These challenges are not only found in Sri Lanka but seen in many countries across the world and thus the formulation of the legal framework we talk of today through a multi-stakeholder approach, is highly significant. The good news is that we are not starting from ground zero in Sri Lanka. Privacy and data protection are the real currency of e-commerce. With my discussions in the last few days in Colombo with many Sri Lanka stakeholders, it is clear that payment systems here to be a major issue for e-commerce. These gateways are concentrated mostly on a few large banks and financial institutions but not for other payment institutions and this is an obstacle for Lankan e-commerce progress.it is time to broaden the base of these payment institutions."

Though Sri Lanka has an electronic transactions law in place (the Electronic Transactions Act, No. 19 of 2006) e-commerce experts and market players call for changes to it to bring it on par with international best practices.

The two-day session will also focus on facilitating online funds transfer to and from Sri Lanka using well-known global platforms as Paypal.