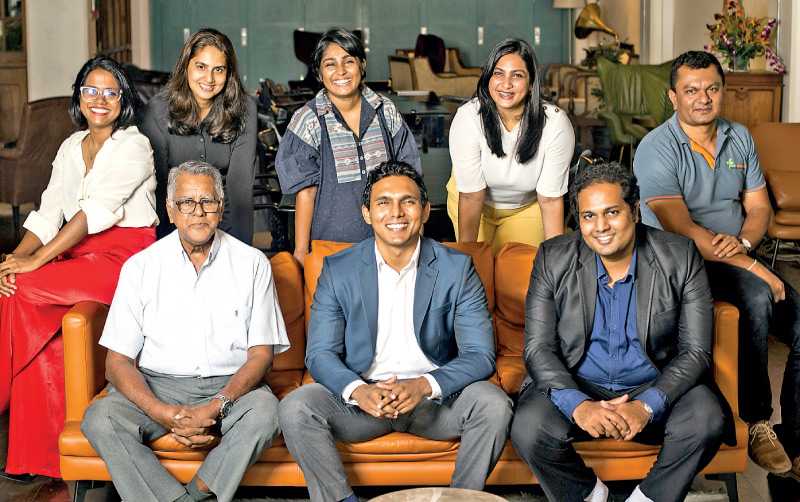 The GLX Garage Cohort of 2020. Standing from left: Randhula de Silva, Sonali Pandithasekera, Lonali Rodrigo, Shenali de Silva, and Nishantha Jayathilake. Seated from left: Gordon de Silva, Dulara de Alwis, and Lahiru Saranga
---
Initiative inspires reinventing of SMEs' stories and taking sustainable, innovative products global
---
Good Life X (GLX) Garage was very much an innovative experiment to take the best of Sri Lanka to the world. Good Life X brought together five sustainable SMEs in the food, agriculture and design sectors who were seizing opportunities to be different, innovative and wanted to take on the global 'conscious consumers' by storm.

As part of a larger programming portfolio of the Good Life X, the Garage focuses on personalised coaching and interventions for SMEs to seize opportunities in order to infuse innovation, update their approaches or refocus their strategies, and further entrench themselves along ethical and sustainable missions and practices to deliver to the growing global market of conscious consumers.

This round of the program initiated in October 2020 was facilitated by GIZ SME Sector Development project, with the special funding received from the German Federal Ministry for Economic Cooperation and Development (BMZ), in response to the impact of COVID-19 on the small and medium scale enterprise sector in Sri Lanka.

The specialty of this program was its nature and approach to problem solving and how it brought together nine experts from five continents, representing diverse fields of expertise to work together in a five-month period to ignite innovation in the participating enterprises.

This ignited exciting, proactive discussions in strategising, best practice sharing, actionising for resilience in the face of the contextual uncertainty, and steering implementation of each SMEs specific goals. The success of Garage is today well represented in the positive disruptions courageously undertaken along with global business growth of each enterprise.

The GLX Garage's 2020 cohort comprised of five enterprises from design and Agro/food sectors. House of Lonali, Worga Naturals, Serendipol, Target Agriculture, and Ceylon Exports and Trading benefitted from the international knowledge sharing, and customised strategies in building short-term resilience and long term growth, while creating opportunities for their cutting edge solutions to come in to global markets.

First-generation entrepreneur and Ceylon Exports and Training CEO Dulara de Alwis used his opportunity to learn and implement digital strategies for the growth of the businesses' in-house brand – Coco House. "The Garage program was an eye-opener for me. The experts had immense value in helping us build a unique global brand proposition and a more holistic digital strategy for our company," said Dulara.

"Especially working with the branding experts on digital space, learning what is the right content, how to approach content and how to place it in order to make the biggest impact, that knowledge has really helped us streamline our brand journey."

Coming from a design background, House of Lonali Founder Lonali Rodrigo commented on how the level of expertise accessible to her, helped her hone the business direction and partnerships within a short period of time.

"The program helped me identify my key strengths and align all branding and communication tools to make the most impact at key points. This has helped tremendously in fine tuning our marketing strategy. The Garage program has also been beneficial in helping me identify the right kind of buyer. The House of Lonali has become a catalyst in sustainability within the design industry, successfully reducing the impact on both the environment and human resources."

Saranga from Target Agriculture, a company that exports organic and fair-trade certified fruits products, joined the program seeking guidance on developing and marketing a new sustainable product range. He commented: "When I first started the Garage program, I only had a concept of a new product line which I had planned back in September 2020.

"Through the program I was able to see my dream come to life. The experts provided valuable insight on branding and marketing communication strategies. This gave me the confidence I needed to reach beyond my limits to launch my products in new market spaces. This program is ideal for emerging companies as they open doors to innovative ventures like mine."

Meanwhile Nishantha Jayathilake from Worga Naturals, recounts a different path taken by in the dedicated GLX experts supporting Worga to be the best organic food processing company in Sri Lanka, empowering the local organic farming community and supporting the rural economy. Though hesitant at first about the program's possibilities, its outcomes made him a believer.

"Even though at first I didn't expect much out of this, having experienced first-hand the knowledge of the experts, I now feel privileged to have had the opportunity to have been a part of this program. The knowledge I received in areas such as proper certification, e-marketing, product branding and communication tools in targeting international markets, was invaluable!" The prominent father and daughter duo, Gordon and Sonali Pandithasekera from Serendipol, too harboured similar trepidations. "At first we too were sceptical on how this program might actually help us. But with the exceptional guidance and knowledge provided by the experts we have gained renewed focus and clarity in terms of our brand vision and brand audience and this has opened up a whole new vista of opportunities.

"As a company whose key objective is to partner with the most purpose driven, regenerative brands in the world to create products that are better for consumers while also being better for the planet leveraging it's clean, green, ethical and regenerative philosophy our time with the Garage program has immensely contributed to us achieving the next steps in growth, impact and sustainability." said Sonali.

The GLX garage program is scheduled to conclude its first successful cohort on 1 April, where they will take the stage at the special GLX Splash Event 'The Future of Asia: Leading the way through sustainability'.