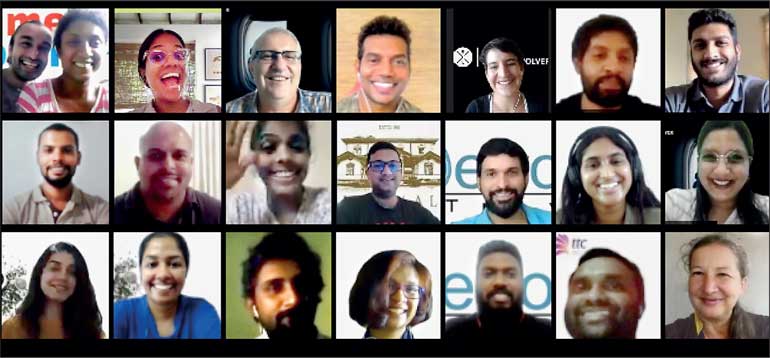 Virtual meeting featuring the 10 short-listed candidates of the GLX Digital Evolver program
---
Good Life X (GLX) in collaboration with GIZ Sri Lanka recently launched the 'GLX Digital Evolver' to empower businesses in Sri Lanka's travel and tourism sector to evolve digitally – growing through the pandemic to become an outstanding and resilient entity in a world that demands a digital presence. The initiative is funded by the German Federal Ministry for Economic Cooperation and Development (BMZ).

The 10 selected finalists – Gileemale Retreat, Summer Explorers Ltd., EcoGrip, The Travel Concierge Ltd., Rediscover Sri Lanka, Detroves Travels, Nandana Tea Factory, Eco Team – Sri Lanka Ltd., Infinity Vacations and Jungle Beach Camp Ahungalla – will work with a host of experts in the industry to identify business opportunities for improvement over the next three months. The GLX Digital Evolver program will work towards a shared goal of sustained development and digital evolution of each business. This includes capacity building to enable audience outreach, app development, social media expansion and marketing as well as website development using minimal budgets to boost required content.

Good Life Founder CEO Randhula de Silva noted: "We curated the Digital Evolver program targeting the small-scale players in the tourism sector who are continuing on their journey through stormy seas, fighting the good fight against all odds and still keeping people and planet at their core. It's an honour to be walking beside them on this journey towards better times, embracing innovation and transformation along the way."

The application process which commenced on 10 May, received over 80 applications from small to medium local businesses in the travel and tourism sector. They had been severely affected by the 2019 Easter attacks and the ensuing COVID-19 pandemic, and were selected irrespective of size, scale, and service offered.

The selection of the 20 shortlisted applicants included an interview by a jury of experts representing GLX, GIZ, as well as Pascal Gavotto (CEO, Fatumaru Consulting) and Naveen Marasinghe (COO, Antyra Solutions). The program's 10 shortlisted finalists were then selected based on key qualifiers including the legitimacy of the business, novelty in the solutions they offered, their sustainable practices and approaches, their focus on conservation and preservation of the environment, the positive social impact delivered to communities, and the innovative approaches they incorporated to remaining resilient amidst the pandemic.

COVID-19 resulted in unprecedented challenges for Sri Lanka's travel and tourism sector. Countering this, the GLX Digital Evolver program offers participants an invaluable opportunity to develop in spite of the pandemic by using digital spaces and contemporary tools to expand their businesses. Country Director Christiane Einfeldt stated that GIZ is pleased to be a part of this initiative, by providing sustainable solutions and technical expertise in support of an important national industry in Sri Lanka.

GLX supports start-ups and mature companies in Sri Lanka in scaling their products, improving internal and external processes and expanding the reach of their products and services across regions and continents. GLX has been in operation since 2019, working in the development of businesses and brands in the food, design, travel and wellness sectors. Founded in 2018 as a pilot project, GLX has now taken wings as its own private entity equipped with extensive experience and tested models created over the years in transforming and elevating sustainable local startups and SMEs in the food, agriculture, design, wellness and tourism space. GLX works with over 40 companies across these sectors.

The Deutsche Gesellschaft für Internationale Zusammenarbeit (GIZ) GmbH has been working in Sri Lanka since 1956, as a development partner of the Government of Sri Lanka. GIZ continues to work towards building capacities, institutional processes and systems to support Sri Lanka's reconciliation processes; private sector development for post-war recovery, vocational training for employability and innovation in natural resource management to prevent adverse effects of climate change.