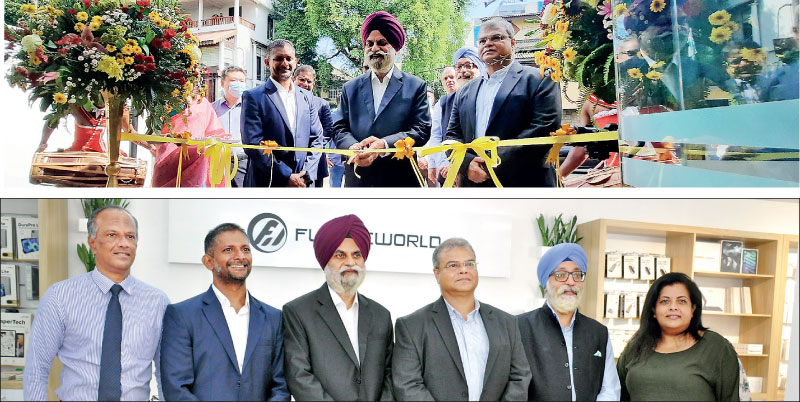 From left: Thakral One Vice President Mahesh Dissanayake, Futureworld Lanka General Manager Ramesh de Silva, Thakral Group Senior Advisor Sri Lanka and Maldives Bhupinder Singh, Thakral Group Head of Finance Jayadratha Das, Thakral Group Senior Manager Manvinder Singh, and Trident Corporation DGM – Sales and Marketing Ushani Kannangara
---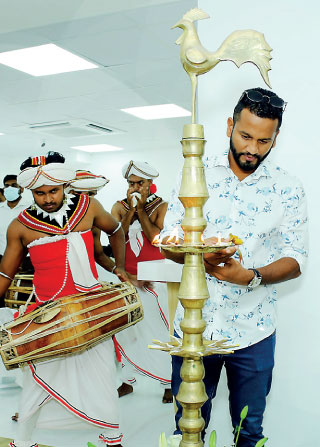 Sri Lanka Test Cricket Captain Dimuth Karunaratne at the opening
Launch of MacBook Air 13.3 inch model
---
Futureworld Lanka Ltd., yesterday opened its flagship store in the heart of Colombo's shopping district at Ananda Coomaraswamy Mawatha (Green Path) Colombo 3.

The state-of-the-art showroom will showcase the latest range of Apple Macs, iPads and Accessories.

Trident Corporation Ltd.'s Futureworld Lanka Ltd. is an Apple authorised reseller in Sri Lanka and the only Reseller and Service provider to be accredited with the Premium status for Apple authorised products and services in Sri Lanka.

To celebrate the opening there was a launch of two new products for the first time in Sri Lanka – the MacBook Pro 13.3 inch and the MacBook Air 13.3 inch models with the powerful M2 chip. These two latest MacBooks are only available exclusively at the Futureworld store.

Customers will be able to get hands-on experience supported by the team at Futureworld who will guide them to make the right choice when it comes to Apple products. Furthermore professionals, corporates and entrepreneurs can get on-site demonstrations by Apple certified technical personnel. The opening ceremony was attended by Thakral Group - Sri Lanka and Maldives CEO Hilmey Niyas and key managers and executives of the company.

"Our team comprises experienced, professionally trained and passionate Apple Ambassadors who will guide customers to make the best choice when it comes to choose Apple products," said Futureworld Lanka Ltd. General Manager Ramesh de Silva.

The brand new store is nearly twice the size of the original Futureworld showroom and is designed to be the new hub for Sri Lankan consumers to discover Apple products and services, get support and participate in exciting promotions.

Colombo has an incredible energy and has long been a destination for the latest IT gadgets and great brands and the Futureworld Apple store will be right at the centre of this brand revolution. The team at the store is looking forward to bringing Apple's unique point of view and attitude to the city. The focus of the brand has shifted from pure sales generation to creating a sense of community and connection for Apple consumers which ultimately drives brand loyalty.

Futureworld also hopes to engage younger audiences with innovative digital experiences and promotions that will captivate this target group. The Apple brand is extremely popular among young millennial customers and the new Futureworld store will engage this group by providing new products and trends, and will be their 'hangout' for connecting with friends physically or virtually, while enjoying the brand experience.

Customers also can get all their Apple products repaired or checked at the well-equipped Futureworld Apple Service Centre, supported by experienced 'factory trained' professionals providing exceptional after sales support and preventive maintenance services. Futureworld also provides one-on-one training to individuals and organisations.

Located in Colombo, Kandy and Jaffna, Futureworld helps to choose which Mac or iPad is right, offering impartial advice on every aspect of the purchase, while providing training on many aspects of the Mac platform.

Futureworld believes in the potential that Sri Lanka offers. "We are proud that Futureworld is committed to revolutionise the IT industry in Sri Lanka, while ensuring its continuous growth," said Thakral Group - Sri Lanka and Maldives CEO Hilmey Niyas. "The next generation of Sri Lankan IT students and professionals can be a part of the Futureworld experience," he added. From its humble beginnings in Vietnam, Futureworld spans across 10 countries in Asia, with over 35 affiliated stores to date. Operating with strong support by the Thakral Group Singapore and its flagship company in Sri Lanka Trident Corporation Ltd.
– Pix by Lasantha Kumara –