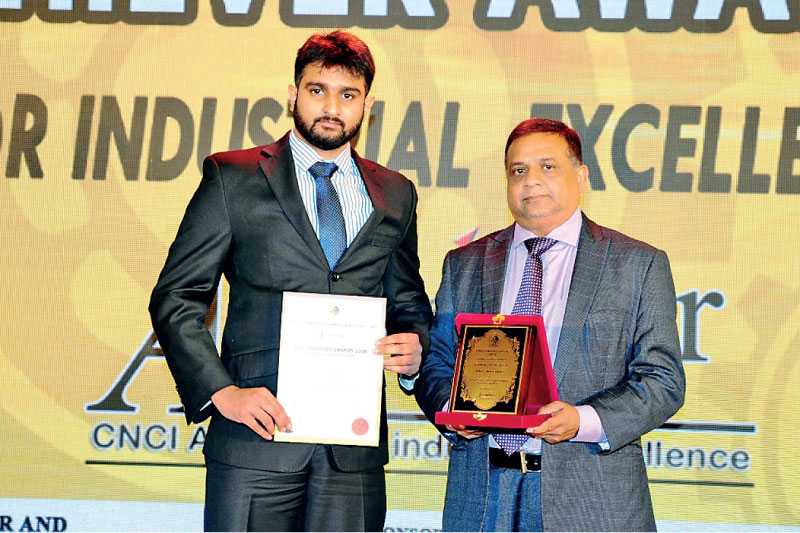 Managing Director Uditha Wanigasinghe and Business Development Manager Senitha Wanigasinghe with the award
---
Farmchemie Ltd., the market leader in animal health products, proved its unsurpassable excellence at CNCI Achiever Awards for Industrial Excellence 2020, being the winner of Manufacturing Sector, Extra Large Category, National Level for the second consecutive year.

The flagship event organised by the Ceylon National Chamber of Industries was recently held at the Galadari Hotel with Minister of Industries Wimal Weerawansa as Chief Guest who presented the coveted award to Farmchemie Managing Director Uditha Wanigasinghe.

With a successful history exceeding 15 years, Farmchemie saw a remarkable growth extending to the international market. The company manufactures and markets animal health products, veterinary pharmaceuticals, animal feed additives in several brands including 'Farmstar' their flagship brand. Since 2018 Farmchemie has been exporting its products to India, Uganda, Bangladesh, Pakistan, Nepal and UAE.

"Having started in a very small scale with just three employees, Farmchemie has been able to record a speedy growth to become the market leader in animal health products sector because we are committed to investigate and identify problems and requirements at animal husbandry and provide solutions in time," said Wanigasinghe.

Today, Farmchemie is the first and only animal health products company in Sri Lanka to have been accredited with ISO 9001:2015, WHO GMP quality certifications. In addition to a comprehensive manufacturing facility with sophisticated machinery the company has an exclusive BOI approved plant for manufacturing export products which has ISO 9001:2015, GMP+ and FAMI QS standards.

Farmchemie has been recognised with many accolades in its journey to success including National Enterprise Excellence – 2013 (Merit award), Gold award at Agribusiness Awards-2014 organised by the Department of Agriculture, APEA-2014 (Emerging Entrepreneur) and CNCI Achiever Awards 2019.