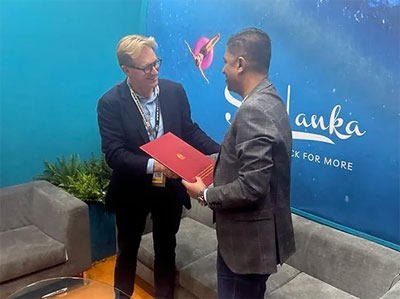 Extreme has announced a strategic collaboration with the Sri Lanka Tourism Promotion Bureau (SLTPB) aimed at transforming Sri Lanka into a world-class adventure and leisure destination.

Extreme is a world-leading, purpose-driven adventure brand whose vision is to drive positive change through extreme and adventure sports.

This exciting partnership will leverage Extreme's expertise in adventure sports, hospitality, and tourism to enhance the appeal of Sri Lanka for global adventure enthusiasts and leisure travellers.

The partnership was sealed last week during a short ceremony that took place on the Sri Lanka Tourism stand at the World Travel Market in London, where a Memorandum of Understanding (MoU) was signed by Extreme CEO and Founder Alistair Gosling and SLTPB Chairman Chalaka Gajabahu.

With over 25 years' experience in the global extreme and adventure sports industry, Extreme will support the Sri Lankan Government's agenda to drive an active, healthy lifestyle, sport participation, positive mental health, job creation, infrastructure investment as well as support local communities and tourism through adventure sports in the destination.

"This partnership is testament to Extreme's commitment to drive positive change through extreme and adventure sports, across global destinations, regardless of their size or location. Sri Lanka's renowned natural beauty, rich ecosystem and culture and amazing topography, offers the perfect canvas to cater to adventure tourism and hospitality. The Extreme Destinations development team and I are looking forward to being part of the journey to bring adventure sports hospitality and experiences to this destination," said Alistair Gosling.

The MoU outlines a number of areas where Extreme will work with SLTPB including in the promotion and marketing of Sri Lanka as a premier adventure sports and tourism destination, the development of extreme and adventure sports destinations and the design, development and operation of an array of extreme and adventure sports hospitality offers and experiences across the country. Emphasis will be placed on environmental sustainability and exceptional service to cater to the adventure travel and adventure sports enthusiasts and tourists, whilst ensuring that all sports, leisure and hospitality offerings harmonise with Sri Lanka's breath-taking natural beauty and ecosystem.