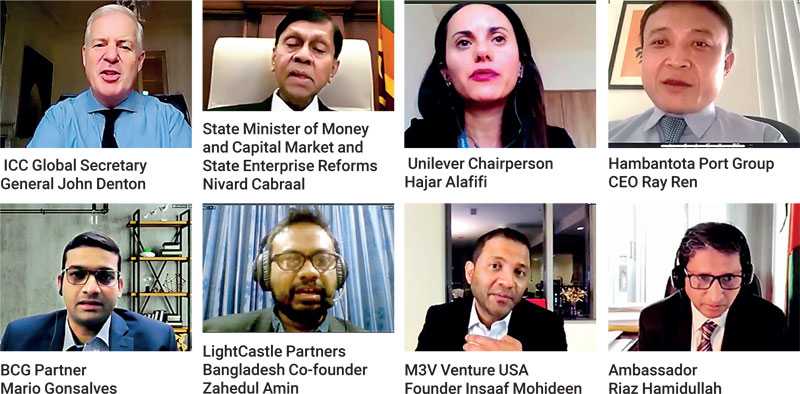 ---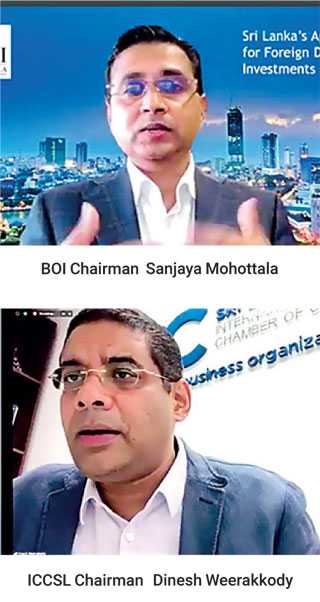 The webinar organised by ICC SL, Daily FT, CIMA and BCG to discuss the required strategies to attract FDI to Sri Lanka noted that investors had removed $ 83 billion from developing countries since the beginning of the COVID-19 crisis, the largest capital outflow ever recorded. Further according to UNCTAD global FDI flows are expected to contract between 30% to 40% during 2020/21. The contraction in FDI therefore is going to hit developing countries particularly hard.

The COVID-19 pandemic has caused several shifts in the socio-economic landscape of countries across the world and is also engendering opportunities that can be seized by futuristic economies. In this context, the ICC Sri Lanka, Boston Consulting Group (BCG), Daily FT and CIMA organised a panel discussion on 'Strategies to Attract FDI into Sri Lanka'.

In his opening remarks, ICC Secretary General John Denton said, "In this moment of crisis we need to assess three important factors, i.e., supply, demand, and policy – supply is impacted by the lockdown measures, demand is tepid due to job losses and uncertainty of future prospects, and governments have tightened FDI norms." He further observed that emerging markets have especially borne the brunt of the pandemic in terms of economic disruption and that it is imperative for the G-20 to provide additional support to emerging economies like Sri Lanka.

Taking the conversation forward, State Minister of Money and Capital Market and State Enterprise Reforms Ajith Nivard Cabraal highlighted the key imperatives for attracting FDI in Sri Lanka.

1. Stable macro-economic fundamentals such as quality infrastructure, compelling interest rates, stable currency, and reasonable growth.

2. Robust hard infrastructure like good road networks, availability of electricity, etc.

3. Sound legal and administrative structure such as supportive labour and investments laws and mechanisms to protect and efficiently repatriate investments.

4. Soft infrastructure such as health and education facilities, cleanliness, etc.

5. Establish a one-stop-shop for investment approvals and ensure the commitment of private sector players in partnering and attracting FDI.

He also mentioned that the Sri Lankan Government is targeting FDI of $ 2,500 billion for the next year.

A pertinent question raised by ICC SL Chairman Dinesh Weerakkody was about the recent downgrade of Sri Lanka by rating agencies and what the country could do to put itself back on the investment map. The opinion was that the rating agencies have not been sensitive to the environment. However, investors understand the Sri Lankan credit markets and have responded to the downgrade in a fairly benign manner. For example, in the last three months the total turnover of the Sri Lankan stock exchange has been 3x its past five-year value.

Responding to the question raised with regard to how Sri Lanka can get back on track, Board of Investment (BOI) of Sri Lanka Chairman Sanjaya Mohottala shared some valuable suggestions. He said, "The thrust must come from the top. BOI is directly under his excellency, thereby allowing it to seamlessly and effectively orchestrate the fabric of the economy." He further added, "In the next five years, Sri Lanka can offer significant investment opportunities by creating a conducive environment with the right policy and infrastructure and building a pipeline of compelling investment opportunities."

Unilever Sri Lanka Chairperson Hajar Alafifi highlighted that ease of doing business, currency stability, and policy consistency are a must for companies to consider investing in a country. She also underscored the relevance of better access to raw materials and good supply chain infrastructure.

Endorsing the integral role that supply chains can play in attracting FDI, Hambantota International Port Group Chief Executive Officer Ray Ren said, "The first thing is to create robust supply chains and find anchor projects that can attract foreign investments."

Seeking more colour, Dinesh asked Ambassador of Bangladesh to the Netherlands Riaz Hamidullah about the role that embassies can play by leveraging their networks. Ambassador Hamidullah opined that attracting FDI is a long-term process and that embassies should continue to engage with existing and potential investors to engender confidence, trust, and comfort. He also said that it is important for the country to distil the type of FDI that it is seeking. "A decade back we were looking at sunset industries. Now we must look at sunrise industries – the innovators, start-ups, and SMEs," he added. This can be enabled by creating incubators, carving out niche and unique supply chains, and establishing dynamic and agile FDI strategies. Ray Ren further noted the need for consistency in policy and to make the existing investors in the country happy.

Boston Consulting Group Managing Director and Partner Mario Gonsalves brought attention to the realities of the current landscape. He observed:

1. The existing FDI flows are approximately $ 2 trillion. Thus, even with a drop of 40%, we still have upwards of $ 1 trillion FDI – this represents significant opportunity.

2. The narrative around supply chain restructuring is very real with several shifts currently underway. In India alone we are seeing a pipeline of up to $ 50 billion at a national level and close to 4-5 billion for just one state in India.

Gonsalves also shared some tangible strategic insights that can be adopted by Sri Lanka as it formulates its FDI framework. He said, "We must look at the entire investor base, assess their requirements, and align policies and strategies to meet those requirements." There are essentially three categories of investors:

Factor cost driven investors

Ecosystem and resource driven investors

Demand driven investors

Sri Lanka is not well-positioned to attract demand driven investors considering the paucity of local demand. However, there is huge opportunity in the first two. Factor cost driven investors, for example those in the electronics, pharmaceuticals, and auto industries, present a significant opportunity for Sri Lanka. This opportunity can be leveraged through policy stability and continuity, by improving ease of doing business through single window clearances, and by providing attractive incentives and subsidies. The second category, i.e., the ecosystem and resource driven investors, is looking for readymade infrastructure, for example, in the form of business parks, R&D centres, and innovation centres. Sri Lanka needs to ensure that there is a clear strategy and offering to meet the unique requirements of different types of investors.

Beyond the tangibles, Sri Lanka also needs to invest in the intangibles. According to LightCastle Partners Bangladesh Co-founder Zahedul Amin, "The fundamentals are like hygiene factors that must be met. However, investors need to connect with a country at a more intangible level as well – they need to enjoy and like living in that country." Taking this thought forward, M3V Venture LLC Founder Insaaf Mohideen elaborated on how portraying success stories and focusing on country branding is the key to attracting FDI. For example, once Netflix and Google decided to move to Ireland many other industries and segments followed suit.

Tying up the panel discussion, Sampath Bank Director Aroshi Nanayakkara questioned whether developed countries will be following a more insular policy in the aftermath of the pandemic. Responding to her question, Mohideen said that there is a lot of introspection in terms of returns, diversification, etc. While 2021 continues to be a bit of an unknown, FDI is likely to start thriving 2022 onwards.

The webinar was concluded on a note of confidence and positivity. Many of the panellists noted that with the right strategy, greater transparency and respect for laws, Sri Lanka can get on the path to attracting FDI into the country and propelling its growth to new heights.