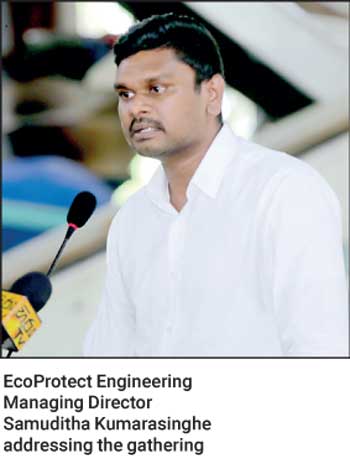 The state-of-the-art pellet and granular fertiliser manufacturing facility of EcoProtect Engineering Ltd. located in Oyamaduwa, Anuradhapura was opened on 9 November with the participation of District Secretary Anuradhapura Janaka Jayasundara, National Fertiliser Secretariat Director Chandana Lokuhewage, and senior officials from the Ministry of Agriculture.

EcoProtect Engineering Ltd. is part of the Multichemi Group of Companies which is already engaged in the manufacture and distribution of biofertilisers and blended chemical fertilisers. This newly opened modern manufacturing facility is comprised of 25,000 sq. ft. of production floor area and is capable of manufacturing over 10,000 metric tonnes of organic, hybrid and NPK chemical pellet and granular fertilisers annually.

Addressing the gathering at the opening ceremony, EcoProtect Engineering Ltd. Managing Director Samuditha Kumarasinghe mentioned, "The range of eco-friendly, high-tech pellet and granular fertilisers manufactured at the new production facility will be marketed under the brand names 'MCI', 'TopCrop' and 'BioCrop'. We have always manufactured products of uncompromising quality which has enabled us to gain wide acceptance from farmers." Kumarasinghe also stated that the new range of pellet and granular fertilisers has specifically designed products for paddy, vegetable, tea, and maize crops.

Further, the manufacturing facility is located within a 25 acre agricultural land which has been established under a sustainable development plan with the planting of local fruits and grains, keeping in line with the company's environmental-friendly approach.