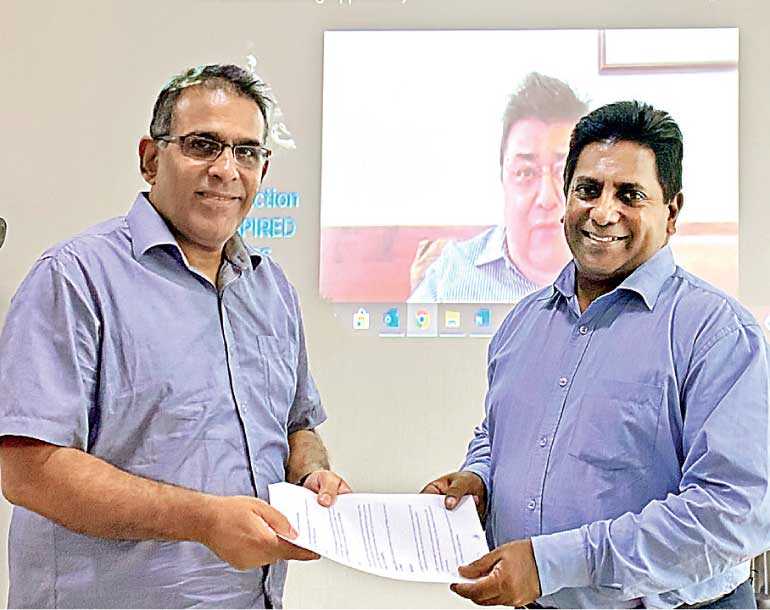 EPL Global and Sensei International Partner Ranjan De Silva (left) with Universal Collage Lanka CEO Gihan Silva
---
Extraordinary opportunity to learn from world's best through Omar S. Khan at INSPIRED SUCCESS - Dynamic Business and Personal Growth
---
EPL Global, Sensei's new global brand and Sensei Lanka, joined with Universal Collage Lanka (UCL) to restart the international speaker event in Sri Lanka on 18 August by presenting global success coach EPL Global and Sensei Founder Omar Saqib Khan. Omar will be joined by EPL Global and Sensei Lanka Partner Ranjan De Silva.

Sensei Lanka was perhaps the first organisation to bring international speaker events to Sri Lanka in 1999, offering 'Creating the Future' with Ron Kaufman, Omar S. Khan, and three other international speakers, followed by Tom Peters, who taught 1,600 Sri Lankan corporate leaders 'How to Wow'. Therefore it is fitting that they are at the forefront of taking Sri Lanka forward, perhaps the first in the world in the post-COVID era.

Omar will take us through an exciting, trail-blazing and extraordinary tour of some of the most remarkable thought leaders he has personally worked with, contributed with, and learned from. These are not generic lessons from their books or videos, but "live from the front-lines" of application: lessons, tools, insights and inspirations that you can immediately benefit and profit from, provoked by and evoked from Omar's collaboration with them:

Leo Buscaglia is the man who got the copyright of the word 'love', by publishing the first-ever book on the topic and embodying how we can live abundantly, courageously, empathically, creatively and originally. Omar's interactions with Leo set him off on a festival of living, loving and learning, and he will share some of the most impactful 'ideas' and 'applications' that can enrich and empower everyone.

Neuro-Linguistic Programming via Robert Allen and Don Wolfe was Omar's first exposure in the early 90s to the breakthrough genius of Bandler and Grinder, applied and focused to practical success, and with intuitive breakthroughs on creating purpose, dismantling negative past experiences, establishing rapport, choosing your 'state' and breaking through to freedom past any fears. Here Omar takes you behind the scenes to the wisdom that helped create 'Mastery of Self'.

M. Scott Peck taught us how mental and emotional health are allied; he laid the groundwork for our understanding of emotional intelligence, he brought psychiatry and spirituality together, he taught us to embrace wonder and mystery, and build community past ego masks and across boundaries and divisions. Omar worked closely and intimately with Scotty for many years and will share the animating wisdom of taking 'The Road Less Travelled'.

Tom Peters brought management to vivid life, he rescued leadership practice from stale consulting models of 'strategy' and 'organisational structure'. Working with him and his company, Omar experienced why we need to rattle the cages of corporate complacency and challenge stale ways of thinking – converting them into radical, creative, people-first innovation that liberates real enterprise value and breakthroughs.

Ron Kaufman is the service champion par excellence. And with their years of friendship and partnership, Omar will draw on Ron's quirky commitment to how we create value for each other through sustained service, and by expressing our passion and imagination to make every 'perception point' sing, across industries and geographies.

Edward de Bono literally created 'lateral thinking'; and Omar's long experience with his methods, and working with de Bono, adapting some of his thinking tools to create and leverage even deeper change, will be shared here, as we emerge with a mini-university of portable tools on provocative and parallel thinking as a way to create exceptional new design.

Dan Sullivan is truly the 'Strategic Coach'. Omar worked with Dan's tools for over seven years and converted them into a powerful presentation called 'Strategic Living' that people cite decades later. He also created adaptations for corporate success from these remarkable insights about how 'the best get better' and how we can magnify measurable success while measurably reducing pointless stress.

Alan Weiss was Omar's co-author on two books, has been a best-selling author for decades, the 'consultant for consultants', a remarkable contrarian, debunker of sloppy thinking and stale, outmoded formulaic responses. Omar's work with Alan has led to Omar's own mentoring of countless leaders, consultants, and coaches, and here he will share with you marvellous strategies by which you can 'thrive' no matter your occupation or role.

Marshall Goldsmith is considered the world's leading leadership coach, having created the 'stakeholder based coaching' approach, and coaching people to come alive to our potential by supporting each other's growth. From their presenting and brainstorming together, Omar will share some of the most dramatic ways you can powerfully ignite change leveraging Marshall's leading insights.

Lester Levenson created 'Releasing', an application of 'Mindfulness' that is both evolutionary and revolutionary as a way to 'let go' of anything in the way of our full flourishing and vibrant 'being-ness,' or shall we say 'being-fullness'? While Omar has never met Lester in person, he has worked for years with teachers who for decades were his direct disciples and apprentices. They helped interpret and translate the lessons from this living master. And Omar, from his work with them, has created perhaps the most far-ranging integration of the master's methods. You will experience a powerful 'release' by which to cap this remarkable day.

Originally presented as an online course during the pandemic, participants will also get preferred access to the 10-week, one hour per master, video recordings done by Omar for an intimate group, at a very special value. Thereby, being able to re-experience the key learnings and continue to integrate them into your life, business and success!

Omar will be joined by Ranjan de Silva, his business partner and dear friend of many decades, who joined Omar from John Keells, inspired by Mastery of Self and the teachings of some of these thought leaders, and has been on the front lines collaborating with Omar, as these insights and learnings have been crystallised, distilled and shared, across Asia and the world.