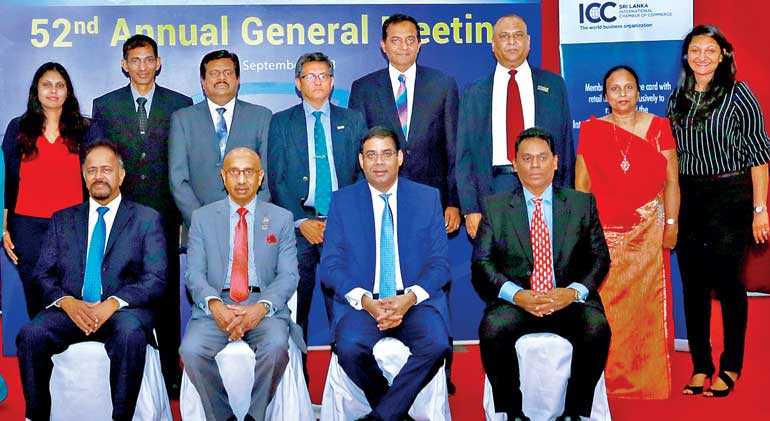 Elected Members of the ICC Sri Lanka 2018-19 Executive Committee. Seated: Vice Chairman Capt Nalin Peiris, Immediate Past Chairman Keerthi Gunawardena, Chairman Dinesh Weerakkody, and Secretary Shanil Fernando. Standing: Committee members Manohari Abeysekera, Janath Illanganthillake of HNB PLC, Vice Chairman U L H Gunasekera, Committee members Rohan Masakorala, Dinesh Saparamadu, P M Abeysekera, Shobani Prathapasinghe, and Manisha Rajanayake

Not pictured: Treasurer Sheanath De Zoysa, Vice Chairman S Renganathan, Vice Chairman Rohith Udalagama, and Committee member Tissa Jayaweera
The 52nd Annual General Meeting of the International Chamber of Sri Lanka (ICC Sri Lanka) was held at the Ministry of Tourism Development and Christian Religious Affairs Auditorium on 28 September at 9.30 pm.

HNB Chairman Dinesh Weerakkody was re-elected as Chairman for the second consecutive year to provide leadership to ICCSL. The Executive Committee members for the year 2018/19 were elected and the revamped ICCSL Webpage was also launched.

ICCSL is the domestic chapter of Paris-based international world business organisation, the International Chamber of Commerce (ICC). ICCSL is the local chapter of ICC Paris, which holds the sole authority to issue ATA Carnet. ICC currently has over 6 million members in more than 100 countries. ICC works to promote international trade, responsible business conduct and represents business interests at the highest levels of intergovernmental decision-making, whether at the World Trade Organisation, the United Nations or the G20, ensuring the voice of business is heard.