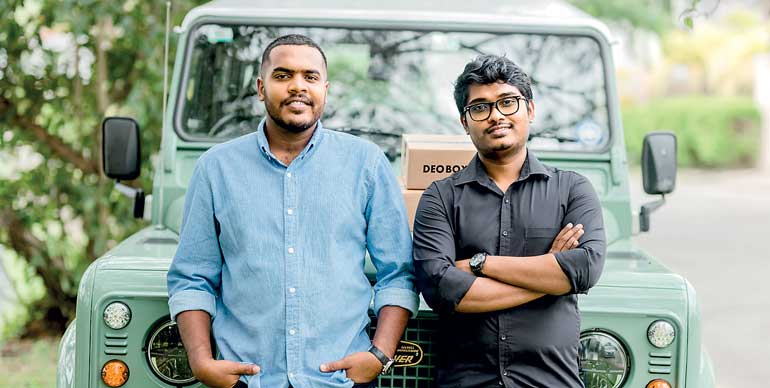 Deobox Co-Founders Kashin Perera and Sudara Melvin
---
Deobox, Sri Lanka's first-ever and only registered online subscription business, was first introduced in 2019 to cater to discerning Sri Lankans who sought good quality original deodorant products.
Following its success here, it is now set to mark its entry to the UK market in the hopes to catering to prospective clients who are used to this concept and who also seek to purchase original and globally-recognised deodorant brands on subscription basis.

Deobox was the brainchild of Co-Founders Sudara Melvin and Binara Sakalasuriya. What started with a need to acquire original deodorant brands more conveniently, the idea for Deobox came into fruition when the duo decided to work on a concept where more people who genuinely care about getting their hands on original products carrying global certification, can subscribe to get their favourite brands delivered right to their doorstep every month.

Following Binara's exit from Deobox in October 2020 to pursue other business prospects, Sudara was joined by current Deobox Co-Founder Kashin Perera. The team's marketing process is supported by Digital Marketing Consultant Deshan Perera.

Working on the subscription system, this concept is already popular in Western countries. The inspiration to introduce this concept to the Sri Lankan public eventually spawned Deobox.

However, Sudara and Kashin aim to focus and expand their product portfolio within the next few months without limiting to deodorants alone. Subscribers can look forward to future additions of total grooming solutions which includes razors, shampoo, etc. for men as well as cosmetics and sanitary products for women.

The Deobox founders aim to enhance the subscription service's image amongst prospective customers from every part of the country.

Speaking about how Deobox evolved since its inception, Sudara explained, "We started the beta test run for Deobox in October 2019 and continued testing for a year. Along the way, we noticed our initial customers react with the deliveries they received each month and the excitement that came with it, getting to wait for the next month's delivery. Over time, we developed the algorithm to provide high priced deodorants at a budgeted price and we saw an opportunity following negotiations with the Original Equipment Manufacturers (OEMs) so that we could ensure the provision of the best product to our customers and hence, enhance user satisfaction."

Sharing his views on the changes that followed after he joined the company, Kashin stated, "We moved forward and launched the deobox.lk site with the online payment facility and introduced a recurring payment facility to the site. This is a monthly automated payment processing system for the convenience of our users. We have strategised our marketing and that had helped increase our user acquisition rate. We have straightened our operations in a way that would fulfil the requirements of our customers. With all of these facilities and systems set in place, it has helped us to maintain the user retention rate of 95% and a five-star rating from our customers across our social media platforms."

Popular deodorant brands which current customers can enjoy include original products from Nike', Adidas, Wild Stone, Fogg, Old Spice, Yardley, Denim and more. Subscription packages are conceptualised as Deobox for Him and Deobox for Her, and start from Rs. 850. Subscribers have the option of either making their payments online or pay on delivery. Customers also have the option of cancelling their subscription at any time. Deobox founders have also focused on the sustainability element of opting out of single-use plastic and going for reusable corrugated boxes instead.

The Deobox founders are also currently working on launching 'Deobox Club' which will allow for more interaction and the formation of a community of likeminded subscribers. This will also pave the way for the implementation of a Loyalty Card for the subscribers which will come with exciting benefits for them in the long term.

Through this mechanism, the founders also look towards giving back to their supporters by way of empowering budding entrepreneurs to chase their aspirations by way of encouraging messages that each subscriber receives with their orders.