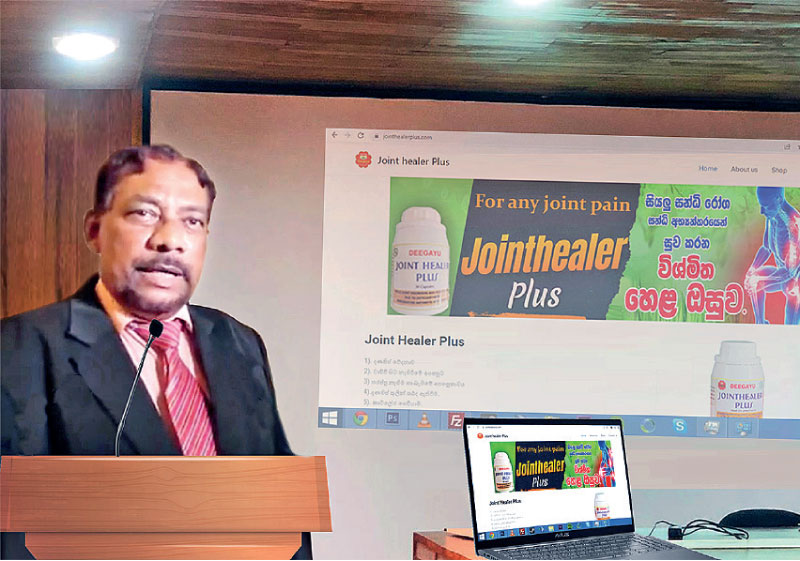 Deegayu Ayurvedic and Botanical Products Managing Director Sarath Jayakody at the launch of the "Joint Healer Plus" web site
---
Joint disorders have been identified as one of the major health threats of the people above 40 years of age today. Deegayu's research and development team has successfully designed a product for healing joints affected by Arthritis and other causes using 100% natural botanical ingredients sourced from various parts of the globe. The product has been named as Deegayu Joint Healer Plus. Deegayu is one of the leading brands in the field of natural botanical products in Sri Lanka, belongs to Deegayu Ayurvedic and Botanical Products Ltd. The company has recently designed and launched a new website dedicated for their new product, Deegayu Joint Healer Plus facilitating a fully pledged e-commerce platform for the customers worldwide to access and receive the product online from anywhere in the Globe.

"No successful chemical drug has been developed by any organisation in the whole world up to now for the successful recovery from joint disorders but our locally manufactured Deegayu Joint Healer Plus is very much successful in healing joints internally affected by diseases such as Osteoarthritis, Rheumatoid arthritis & Sciatica etc. We have now introduced our Joint Healer Plus to the international market and anybody from anywhere in the world can order and receive our product through this newly launched e-commerce platform," said Deegayu Ayurvedic and Botanical Products Managing Director Sarath Jayakody, at the web launching event.

Deegayu Joint Healer Plus comprises of 100% natural ingredients sourced from various parts of the world, those are capable in healing the joints internally by eliminating the inflammations deformities in the joints while nourishing and rejuvenating the bones and cartilages and finally by facilitating the generation of synovial fluids around cartilages for the proper lubrication and smoother movement of the joints. The ingredients in the formulation have been sourced from the forests of Himalaya, Amazon, Andaman Islands and some parts in China. The standardised extracts manufactured based on modern science and technology have been used in the formulation as raw materials and prolonged use of these herbs have been recommended as safe.