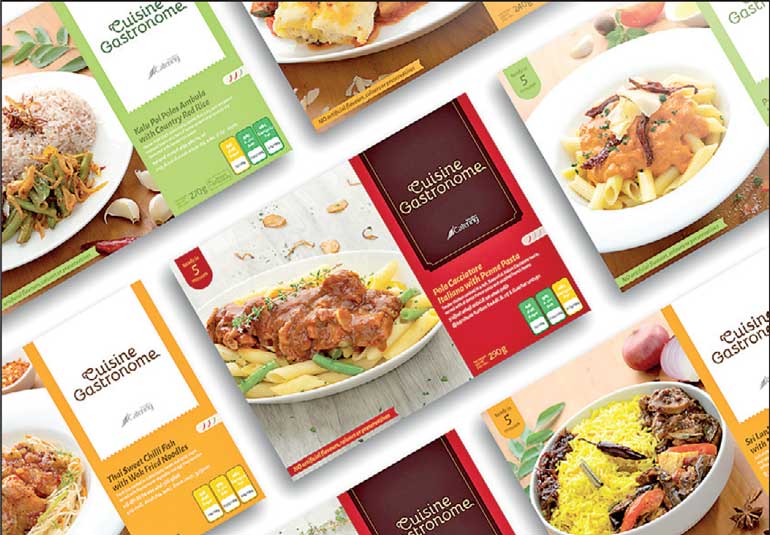 ---
Illustrating the power of storytelling, clear communication and design elegance, 'Cuisine Gastronome,' the heat and eat gastronomic product of SriLankan Catering, won three Gold awards for its product packaging at the Sri Lanka Packaging Awards 2021. The packaging concept of Cuisine Gastronome appeals to the target audience with the clear and inspired design conveying a sense of gourmet food and fine dining, in the comfort of one's home.

Cuisine Gastronome clinched the three Gold awards in the categories; 'Food Packaging,' 'Innovation' and 'Packaging that Saves the Food'. As a result, Cuisine Gastronome qualified for the World Star and Asia Star awards conducted by the World Packaging Organization.

Prestigious World Star and Asia Star awards honour companies with innovative and creative packaging designs for their products, taking into consideration areas of construction and materials usage, design, innovation technology and environmental consciousness.

"As the sole airline caterer to operate from BIA Katunayake, we at SriLankan Catering always exceled in culinary expertise. We have been catering to major international airlines such as Emirates, Qatar and Turkish Airlines. As an award-winning catering company, we remain steadfastly committed to the high quality of food, safety and hygiene standards. Hence, producing high quality consumer products was simply an extension of our existing excellence. We first launched Cuisine Gastronome during the first lockdown, when our revenue sources were fast dwindling due to the pandemic. But, it was challenging to reach out to our new customer base. We knew we had to maximise customer convenience to prepare the food within minutes while also retaining the nutritional integrity and flavours of our products. We are glad to have partnered on this project with the Dentsu Grant team who guided us from the very inception to the execution phase – their support in conducting research and benchmark studies across a number of areas supported us in understanding our audiences during challenging times. The product soon captured consumer interest and we were able to reach the global market as well. The positioning of Cuisine Gastronome – 'It's Fine Home Dining' beautifully captured the brand essence as well as the product promise we wanted to deliver to a discerning group of consumers," said SriLankan Catering Chief Executive Officer Mangala Wijesekara.

"Packaging is not a communication piece that conveys product information alone. It is the spokesperson for the brand at the point of purchase – the key moment of truth. Packaging has to tie in all the aspects of a brand – the brand positioning, its values, emotional connection, consumer benefits, and the product promise creating a distinct brand experience that the target audience can believe in. It was a great pleasure working with SLC, building the next global Sri Lankan brand," said Dentsu Grant Group Chief Strategy Officer Sajith Weerasinghe.

SriLankan Catering first launched Cuisine Gastronome in Sri Lanka. However, within a small-time frame, the product reached international markets, gaining popularity in Australia and the USA. The Company plans on making Cuisine Gastronome available across the globe, especially targeting markets with a sizeable Sri Lankan diaspora.

"We are thrilled to be a part of building another global Sri Lankan brand from inception to its successful implementation. The opportunity to build a global Sri Lankan brand has always been close to us. We have been blessed to be working with several global Sri Lankan brands – building robust Sri Lankan brands and reaching the global arena is one of the best investments we as marketers and communication professionals, as well as a country, can make. At Dentsu, we are entirely invested in building Cuisine Gastronome to be a global Sri Lankan brand with the help of our network and proprietary tools," revealed Dentsu Grant Group Chairperson and Managing Director Neela Marikkar.