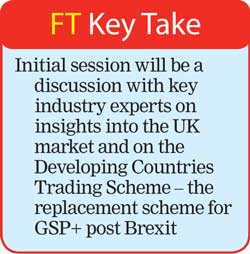 The Council for Business with Britain (CBB) is launching a collaborative initiative to support SMEs to thrive during challenging economic times.

CBB's key purpose is promoting and supporting business with the United Kingdom for entrepreneurs, SMEs and corporates. In addition to the primary goal of supporting SMEs on breaking into UK markets, this year's mandate also focuses on identifying the need to extensively support the SME sector during an extremely volatile economic climate, on a local and global scale. It is a timely initiative with focus to create an ecosystem that supports businesses, find fertile ground and reinvent the wheel while repurposing products and services.

The first of CBB's seminars targeting SMEs will be held on Monday, 28 November at 3 p.m. at the Chamber Auditorium at the Ceylon Chamber of Commerce.
It will focus on uplifting SMEs in Sri Lanka with an awareness session while providing trade insights into the UK market. Additionally, there will be a detailed discussion on the Developing Countries Trading Scheme (DCTS) and how Sri Lankan businesses can benefit from it. The session will be patronised by experts in the industry from the Board of Investment, the Export Development Board and the Exporters' Association of Sri Lanka, who will present in detail on diversification of products, market reach, overcoming current challenges and creating opportunities.
The CBB expects a diverse audience of UK businesses and Sri Lankan SMEs to benefit from the session with plans to engage in 'Uplifting Sri Lankan SMEs', across the entire spectrum, starting from creating awareness to value creation.

There is more potential for Sri Lankan businesses to explore opportunities provided under the UK's bilateral trade based on a recent study of the statistics. Currently Sri Lanka benefits from only one-third of the allowed goods, which are converted to exports indicating more potential for growth. CBB in collaboration with the Department of International Trade of the British High Commission and the Chamber of Commerce in Sri Lanka has identified prevailing gaps in exports. The intention is to collaborate and establish a cross functional working committee comprising the Export Development Board (EDB) and other trade associations to create awareness, develop export-related competencies and facilitate business introductions aimed at converting the untapped market potential which is beneficial for SMEs venturing out into the UK market.

The CBB is a non-political, not-for-profit organisation that works towards promoting trade between Sri Lanka and the United Kingdom. For more information or on how to join its membership, please contact +94 11 5588861.