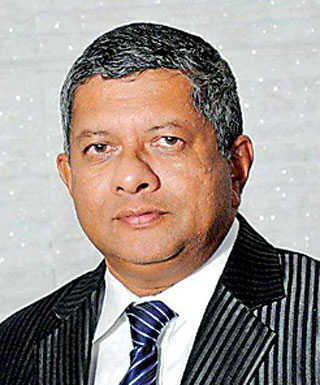 Access Projects MD Dilshan Ferdinando
---
In every industry, there are those whose contribution to its growth, provides unique insights and expertise. Dilshan Ferdinando, Managing Director of Access Projects Ltd., a subsidiary of the Access Group, is no stranger to the world of construction and architecture.

Having cut his teeth with three major architectural firms in Sri Lanka and in Singapore when he entered the industry 25 years ago, Dilshan went on to undertake and deliver some of Sri Lanka's finest and high-quality construction projects.

Under his leadership, Access Projects has grown into a powerhouse of expertise and specialisation such as pioneering Sri Lanka's first ever proprietary aluminium doors and windows, today considered a standard for the construction industry. He was also the driving force behind the setting up of the first ever window testing lab in Sri Lanka, an industry first for Access Projects.

"We have always believed in a firm commitment to meeting the client's exact specifications," he says. "Some of our clients have come to us with very specific requirements. And I am proud to say that we have been able to meet those requirements that not only make them happy but also often set a new standard in the industry."

Having established its own drawing office with special attention to architectural detailing and visualising the project for better execution, Dilshan says that it is indeed attention to detail that adds the icing on the cake for any project.

One such project he recalls is the refurbishment and the construction of a new ballroom for the Galle Face Hotel. "We had to recreate specific design elements from the 1950's era – our guide was old photographs. We were able to create authentic interior spaces which enhance the heritage and the legacy of the hotel."

He recalls that the project Waters' Edge Golf and Country Club which took place during the early 2000s, was to create a complete ecosystem that contained an environmentally sustainable golf course, clubhouse and other spaces. To date, its success is visible in the reformation of an urban landscape and successful enterprise.

As Access Projects enters a new phase of growth with Chathura Bandara and Nishkala Shanmugathasan appointed as Directors, he believes that small but significant aspects of the business make the biggest impact. "Micromanaging every task, ensuring perfect outcomes and managing challenges that are often thrown at us by clients involves a process of heart and soul, with plenty of innovation and out-of-the-box thinking."

"Often clients have requirements that make us put our heads together to come up with specific solutions – it can be in meeting the needs of the look and feel of a building or perfecting the architectural details. Every project has its own unique set of standards and for over 25 years, we at Access Projects have been able to exceed the expectations of our clients in every way possible," he says in conclusion.