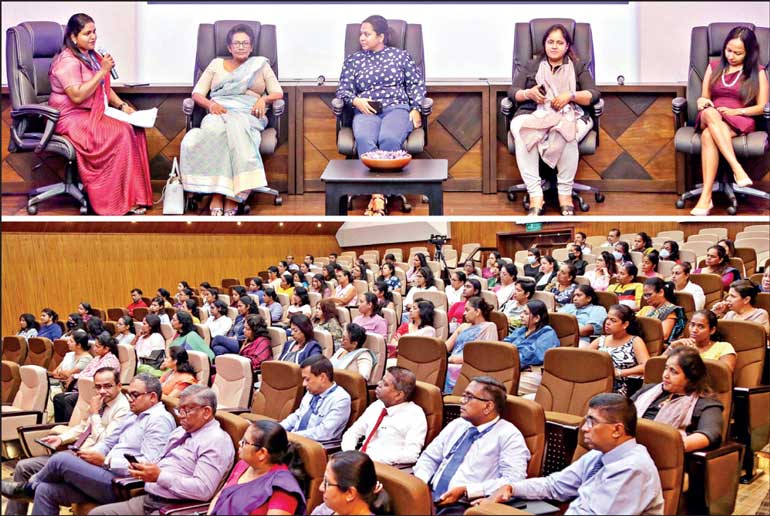 The Commercial Bank of Ceylon recently hosted a special program for more than 100 female entrepreneurs engaged in micro, small and medium enterprises, with business leaders present to share their experiences and knowledge.

The Bank said the event was organised as part of its activities for International Women's Day, and in line with the Bank's focus on supporting and building women entrepreneurship.

One of the key highlights of the programme was an exclusive session on the Bank's digital banking products, presented by the Bank's Digital Banking Unit. This was arranged in line with this year's theme for International Women's Day, "DigitALL: Innovation and technology for gender equality" which the Bank said blended well with its focus on providing the best digital banking facilities. The program also featured sessions on banking products and services for Women, for SMEs and for exporters which were conducted by the Bank's SME Managers from Colombo Region, as well as a session on exports conducted by Export Development Board (EDB) Export Promotion Officer Nipuni Marasinghe. The event was designed to promote financial and digital banking literacy among women and encourage them to take an active role in entrepreneurship, and was attended by Colombo-based women entrepreneurs engaged in a cross-section of industries, the Bank's corporate customers from leading companies, and representatives of the corporate and senior management of the Bank. There was also a panel discussion with entrepreneur and Founder of Sansara Garments Anne Gunasekera, Kent Group Director Arlene Saparamadu, Women Empowered Global Founder and CEO Senela Jayasuriya and entrepreneur and Founder/Director of DAD Global Trading and DAD Freight Forwarding Darshani Jayasinghe. The program took place at Commercial Bank's auditorium at Union Place, Colombo 02.