Chevron Lubricants Lanka PLC celebrates another key achievement of exporting the first consignment of Havoline PRO DS ECO 5 OW-20 Synthetic Dexos-1 licensed premium engine oil, designed especially for hybrid vehicles to Pakistan.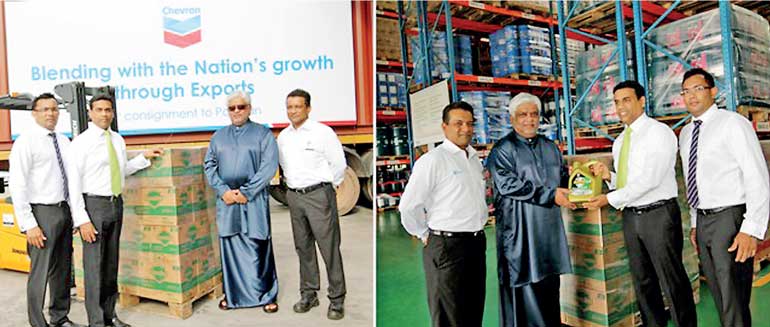 Minister of Petroleum Resources Development Arjuna Ranatunga ceremonially initiates the first export of locally blended Chevron lubricants to Pakistan with Chevron Lubricants Lanka Managing Director and CEO Kishu Gomes while (from left): Chevron Lubricants Lanka Marketing Manager Eenaz Salie and General Manager Supply Chain Wijitha Akmeemana look on
This occasion was ceremonially initiated by Minister of Petroleum Resources Development Arjuna Ranatunga.

The first consignment was shipped on 25 August, from Chevron's state-of-the-art lubricant blending facility in Sapugaskanda that was commissioned in December 2014. This is good testimony to the technology capabilities of the High-Tec blending and modern warehouse facility to be able to generate foreign revenue through non-traditional exports.

Chevron Lubricants Lanka Managing Director and CEO Kishu Gomes said: "This new opportunity will further expand our offshore business that ensures greater economies of scale to be more competitive in the two export markets; Bangladesh and Maldives coming under the full purview of Chevron Sri-Lanka operation. We have grown our export sales volume by double digit on year-on-year basis over the past several years."

"We will continually thrive to create value through exports thus creating real value for the country riding on the strategic partnerships with local business entities such as Hayley's Logiwiz, Phoenix Plastics Ltd. and Aitken Spence on Logistics and warehousing, packaging and freight handling respectively in addition to a long list of other inputs sourced locally to optimise local value addition. The business model we have in place facilitates maximum productivity, efficiency and flexibility to be able to achieve this," he added.

Chevron Lubricants manufacturing plant boasts of BS EN ISO 9001; 2008 certification from the British Standard Institute with 45 million litre production capacity on a single shift with 1.4 million litre warehouse capacity. The laboratory is equipped with latest global technology to ensure quality production meeting global standards to offer in-house oil monitoring facilities to industrial customers such as Ceylon Electricity Board, SL Railway, SLTB and most private sector manufacturing entities.

As the clear market leader in the local lubricant industry, Chevron Lubricants Lanka PLC, as a listed entity with 49% public shareholding delivers maximum shareholder value with an average payout ratio of 90% that is considered to be one of the best in terms of returns.

As a socially responsible organisation, Chevron focuses on road safety, vocational education, health and epidemic control to create a better future for all Sri-Lankans.