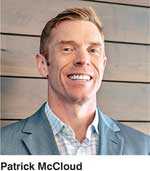 Chevron Lubricants Lanka PLC, a leader in the lubricants market in Sri Lanka has appointed Patrick McCloud as the new Managing Director/CEO effective 1 September 2018.

McCloud joined Chevron in 2006 and advanced quickly through leadership roles in supply chain, procurement, sales and operations.

Most recently, McCloud served as Global Supply Chain Manager for Chevron Oronite, where he was instrumental for executing the business's global sales and operations planning process, helping increase asset utilisation across the manufacturing system and optimise the supply chain, and implementing an integrated supply network planning platform.

McCloud earned a Bachelor of Science degree in Mechanical Engineering from Kettering University and a Masters of Business Administration from the University of North Carolina at Chapel Hill.