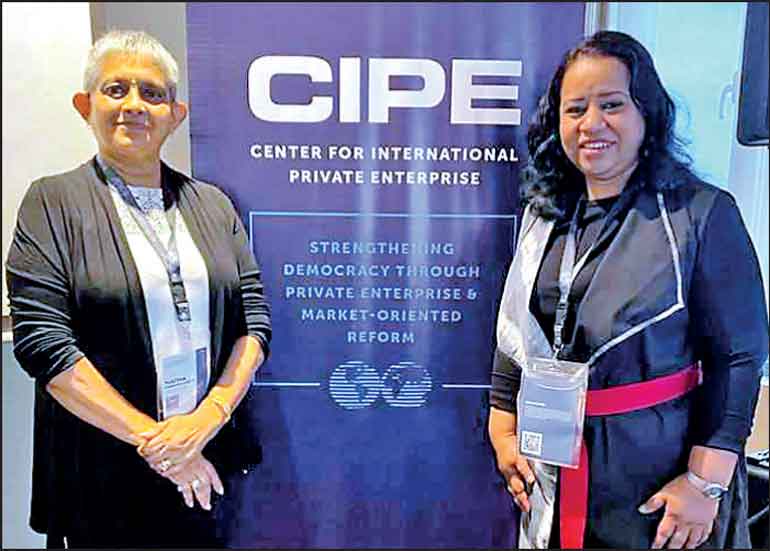 Anoji De Silva and Tusitha Kumarakulasingam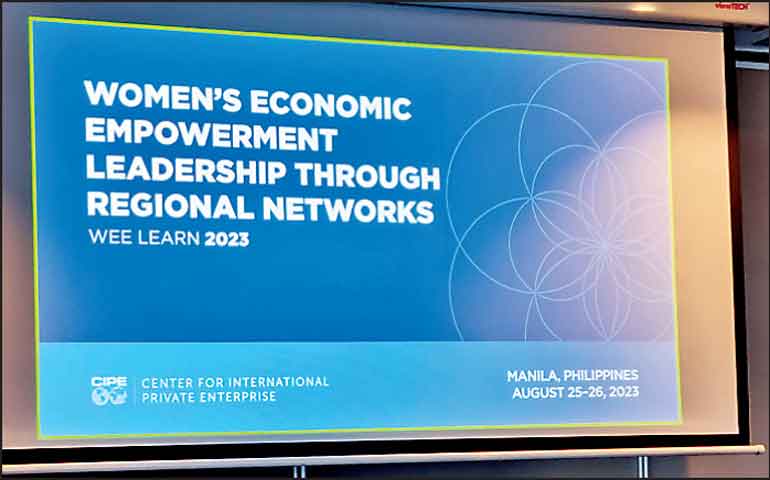 Conference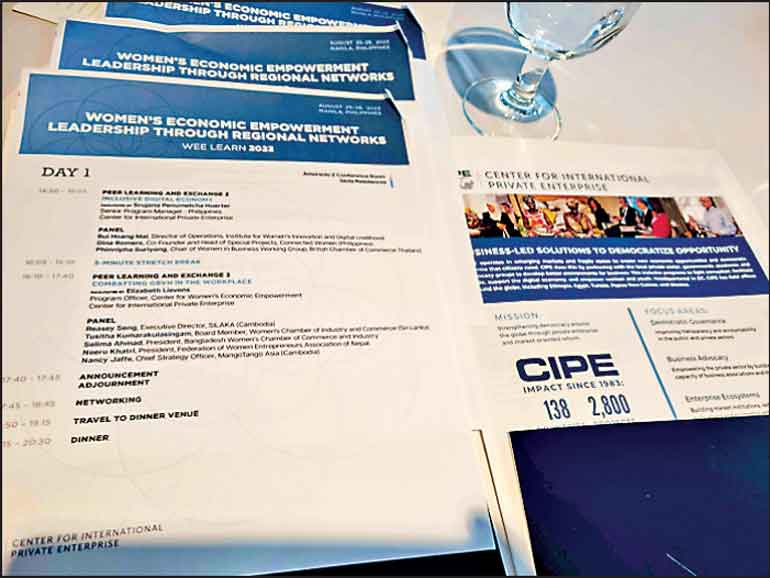 Content of the conference
Participants at the conference
Chamber and Association leadership share smart practices around critical issues to women in business
The Centre for International Private Enterprise (CIPE) hosted an Asia-Pacific Women's Business Organisations Conference with partners from across the region in Manila, Philippines, 25-26 August.

The conference highlighted partnerships to advance women's economic empowerment through combined efforts to promote training, dialogue and advocacy around some of the main barriers facing women in business. In particular, partner organisations shared their experiences working as member-driven business organisations in the post-COVID era, discussed the latest trends and issues in digital transformations as women move their businesses online, and shared how they have addressed the challenges of gender-based violence and harassment in the workplace. In addition, the partner organisations shared their policy advocacy challenges and wins to promote greater women's economic empowerment in their respective countries.

Partner organisations included: the Bangladesh Women Chamber of Commerce & Industry (BWCCI), the Federation of Woman Entrepreneurs Associations of Nepal (FWEAN), the Women's Chamber of Industry and Commerce Sri Lanka (WCIC-SL), Cambodia Women Entrepreneurs Association (CWEA), MangoTango Asia and SILAKA from Cambodia, the Institute for Women's Innovation and Digital Livelihood in Vietnam, Women's Business Council Philippines, the Connected Women network and Bayi, Inc. in the Philippines, the PNG Business Advocacy Network from Papua New Guinea, the Fiji SME Business Owners Network, the Women Entrepreneurs Business Council from Fiji and the British Chamber of Commerce Thailand.

WCIC is the National Chamber for Women in Business and is actively engaged in projects that empower women enhancing their contribution to the economy. WCIC collaborates with CIPE one many initiatives on ground in SL. WCIC Chairperson Anoji De Silva and Board Member/Strategy Consultant Tusitha Kumarakulasingam represented the WCIC at this conference.

As a culmination of the conference, participating organisations released the following joint statement:
We believe in the paramount importance of the economic empowerment of women in our countries to improve their livelihoods and their communities.
Empowering women to participate in the economy offers significant societal benefits, such as improved health and education, greater leadership, and longer-term prosperity.
Greater economic opportunities for current and future generations of women leaders, business owners and workers drive democratic innovations and improve economic growth.
We will continue to support women's economic empowerment in the Asia-Pacific region through exceptional business support services and training for our members and through dialogue with important stakeholders.
We commit to professional excellence in the governance and management of our chambers and associations, and to assisting each other where possible to elevate the performance of our organisations.
We will continue these empowerment efforts to contribute to, uphold, and advocate for international standards of women's empowerment including the UN Sustainable Development Goal #5 to achieve gender equality and empower all women and girls and the ILO Convention 190 enshrining the right to a workplace free from violence and harassment.
We are committed to creating a gender-sensitive, resilient economy and inclusive business environment.
CIPE and its Center for Women's Economic Empowerment (CWEE) lead initiatives to improve the lives of millions of women and other marginalised groups with limited access to economic opportunities, with a vast partner network across over 80 countries. CWEE empowers women to overcome economic inequality and lead private sector engagement, entrepreneurial ventures and partnerships. CWEE promotes women's leadership and strengthens community and global networks of women to advocate for democratic reforms, facilitating more resilient and inclusive economies.
CIPE partners collectively engage women in business to produce impact at three levels:
Personal empowerment: Providing space for businesswomen to develop entrepreneurial mindsets and leadership skills.
Community building: Facilitating networking opportunities, collaborative spaces, and coalitions for advocacy.
Institutional reform: Changing the business environment to lower barriers and support policies that promote equity.