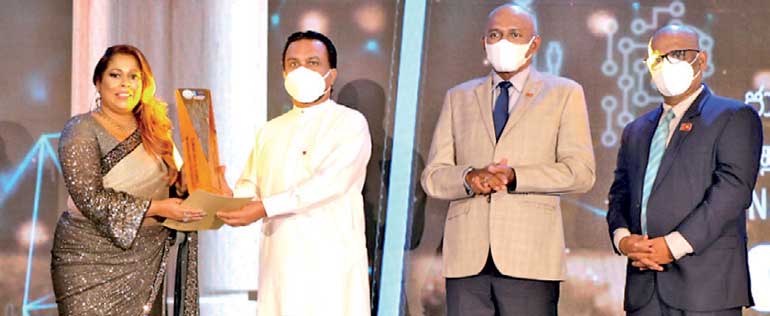 British Cosmetics CEO Nirosha Jagodarachchi receives the award from Minister of Industries Wimal Weerawansa. Also in the photo are Ministry of Industries Secretary Daya Ratnayake and Industrial Development Board Chairman Upasena Dissanayake
---
British Cosmetics recently took home the prestigious Gold Award at the recent National Industrial Excellence Awards held under the patronage of President Gotabaya Rajapaksa at the Water's Edge Hotel, Battaramulla
Commenting on this momentous achievement, British Cosmetics CEO Nirosha Jagodarachchi said, "This is a truly humbling moment. British Cosmetics began as a four-person operation, and the growth we have witnessed over the past two decades has been phenomenal.

"Our team has worked tirelessly to realise this dream, and I am proud that we got to play a part in uplifting our country and our people by doing what we do. We will continue to strive for greatness and take Sri Lanka's cosmetics industry to new heights and show what we have to offer as a country on the global stage."

The much-coveted award was one of the highlights of the night. The event saw 20 small, medium, and large-scale manufacturers become the recipients of Platinum, Gold, Silver, and Bronze Awards at the grand event.

This awards ceremony, which is held annually, was organised by the Industrial Development Board, under the supervision of the Ministry of Industries.

British Cosmetics began in 1998 as a small operation but has experienced exponential growth over the years. Today, with nearly 300 employees, it stands to be one of the foremost names in Sri Lanka's cosmetics manufacturing, retailing, and exporting industry.

With Dimuth Jagodaarachchi and Nirosha Jagodaarachchi at the helm, British Cosmetics is a company that practices respect and care for its consumers, along with a professional team that values integrity. British Cosmetics also conducts beauty and hair academies and lifestyle salons to help build the skills of Sri Lankans in the industry.

Much of the company's success has been attributed to the founders' hands-on approach to perfecting British Cosmetics products and services, in order to ensure excellence and world-class skin and beauty products.

Jagodarachchi contributions were also recognised with the Outstanding Woman Entrepreneur Award at the 'Top 50' Professional and Career Women Awards 2019. The National Industrial Excellence Awards ceremony was held under the theme 'Industrial Revival Revitalizing Country', which sought to recognise outstanding performers across industries who have contributed to the upliftment of Sri Lanka's economy.

The awards are part of efforts to preserve Sri Lankan heritage and uplift the local industries while promoting entrepreneurship.