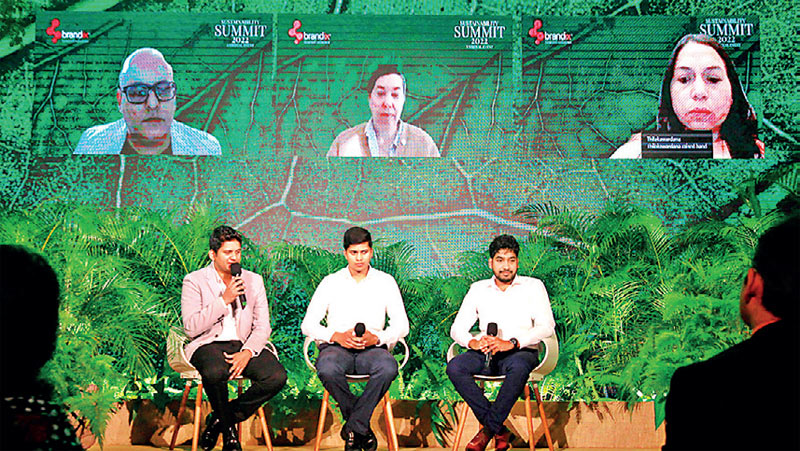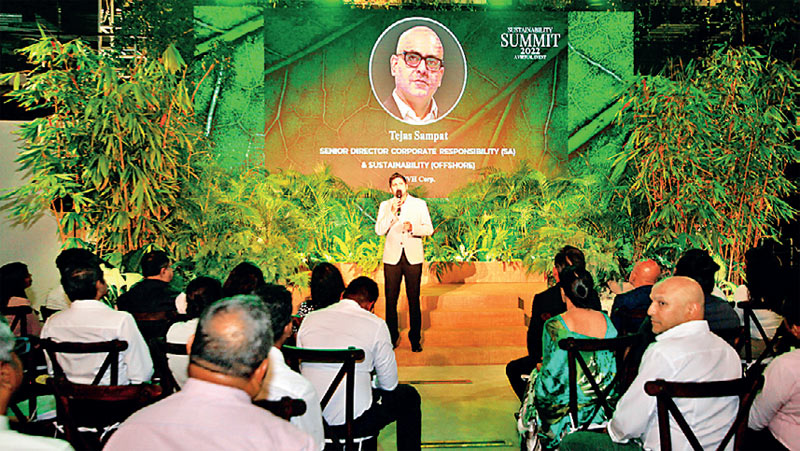 Discussions encompassed role of Environmental, Social and Governance (ESG), and its importance for future business operation
---
Brandix Apparel Ltd. successfully hosted its much-anticipated second Sustainability Summit for 2022 on Tuesday.

The summit, which was a hybrid event with virtual participants and a physical event at Brandix Essentials Ltd., Ratmalana, brought together an audience of business leaders, government representatives, NGOs, and others interested in this timely subject.

The discussions encompassed varied aspects of Environmental, Social and Governance (ESG), covering the pressing issues that faced the world today, with a specific focus on the urgent need to give equal importance to all aspects of the triple bottom line – People, Planet and Profit.

This year's panel of international speakers included UN Global Compact Senior Manager – Corporate Engagement Claire Kells, who spoke of her organisation's work in the areas of promoting best practices and offering methodologies to effectively track results, through the UN Sustainable Development Goals (SDGs) and UN Global Compact's ESG principles.

International Finance Corporation (IFC), a member of the World Bank Group, Senior Environmental and Social Development Specialist Ruby Ojha shared insights on ESG for Sustainability, an overview of IFC Performance Standards and IFC's initiatives relevant to Ready Made Garment Sector.

The final of the international speakers; PVH Corp. Senior Director – Corporate Responsibility (SA) and Global Sustainability (Offshore) Tejas Sampat shared his views on how the fashion industry is changing and the opportunity to drive fashion forward for the good of all. Each speaker reinforced the summit's objective of the need to act now, and to couple global know-how with local solutions.

From hosts Brandix, two panellists, namely Group Engineering Deputy General Manager Akila Fernando and Group Sustainability Engineer Vinura Jayewardene, took the audience through the company's own sustainability journey spanning a decade and a half, and anchored to the pillars of Air, Water and Earth.

The sustainability journey of Brandix, commencing in 2007, has seen significant milestones been reached, and include the plant in Batticaloa, Sri Lanka being recognised as the world's first Net Zero Carbon Apparel Manufacturing facility in 2019. This was not the first time the company broke new ground; in 2008, its factory in Seeduwa, Sri Lanka became the World's first LEED Platinum certified facility under the World Green Building Council, and today the Group has multiple other LEED certified facilities across Sri Lanka and India.

A significant depiction of this commitment is the company's pledge to be Net Zero Carbon across all manufacturing facilities in Sri Lanka by 2023, and all facilities in India by 2025.

"Brandix also works with the objective to make each location where it establishes its facilities, a better place than it was when the company arrived, through enhancing the living conditions and wellbeing of the community," said Vinura Jayewardene, Group Sustainability Engineer, Brandix Apparel Limited. He elaborated that in Sri Lanka, its flagship initiative of Water Projects has provided access to clean water for drinking and household needs to over a quarter of a million people, whilst in India free eye camps screen patients and extend medical support and spectacles, with over 35,000 beneficiaries to date.

With attendance figures for this year's summit once again exceeding the 1,000s, Brandix is humbled to have had the opportunity to bring together a global community of like-minded participants who strive to make an impact on the environment and society. Brandix hopes that this summit is yet another step that will inspire more organisations and individuals to join hands and move from commitments to immediate actions, to unlock the true power of sustainable growth.