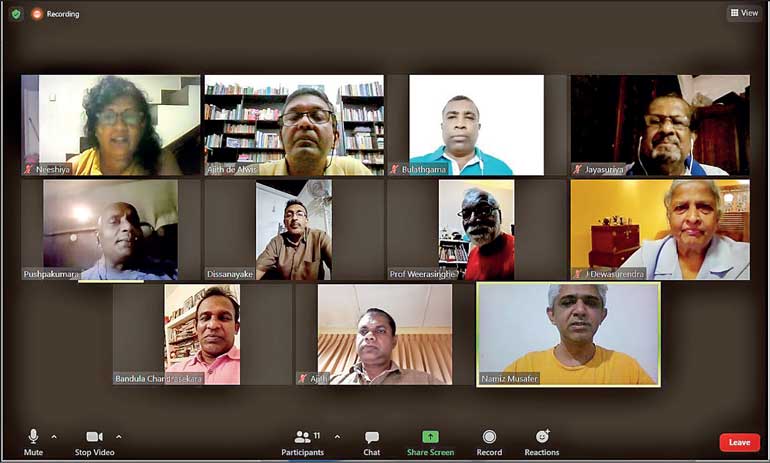 Following a few years in the doldrums the Lanka Biogas Association (LBA) Board of Management met again on 17 July virtually to plan active engagement to promote biogas in Sri Lanka.

LBA was formed in 2007 and had engaged in promotion and dissemination of biogas in Sri Lanka and consists mostly of practitioners. Biogas is a process with rich history and significant future potential. The idea to come together again at these difficult times is to push for adoption of this as a renewable energy system, organic fertiliser production method as well as a circular economy based waste management principle.

To serve three areas which usually requires perhaps three pathways, biogas is available as a single process technology and LBA had termed biogas as a triple benefit technology. As an example, the biogas process preserves ore nitrogen in the solid media than what is possible with composting and at this stage of the nitrogen crisis in Sri Lanka is of high importance.

Biogas technology can yield both liquid and solid fertiliser material, again of importance. LBA would act in these spheres to support Sri Lanka to realise more impactful indigenous solutions the membership asserted.

The following members participated in the discussion and an immediate action plan starting with agriculture was identified to be pursued from the beginning of next week:

Prof. Eng. Ajith de Alwis (President), Senior Professor and Dean – Graduate Studies, Moratuwa University; Eng. Athula Jayamanne, Contractor, formerly National Engineering Research & Development Centre; Prof. (Emeritus) K.D.N. Weerasinghe, Agriculture Faculty, Ruhuna University and Consultant Advisor – Ministry of Plantations; Eng. Ajith Jayasooriya (VP), Director – National Engineering Research & Development Centre (Vice Presidents); Neeshiya Gunaratne (Secretary), former Programme Secretary – Practical Action, Holy Family Convent; Bandula Chandrasekera (Treasurer), former Chairman – Lanka Electricity Company and MD – LRDC Services Ltd.; Athula Bulathgama (Asst. Secretary), Director, Sustainable Energy Authority; W.A.M.S.J. Pushpakumara (Asst. Treasurer), Development Officer, Ratnapura District Secretariat; Eng. J. Devasurendra, former Director – Engineering Standardisation, Sri Lanka Standards Institute; Dr. Damsiri Dissanayake, former Veterinary Surgeon, Negombo; Eng. Kithsiri Dissanayake, Director – Engineering, Ministry of Highways; Eng. Namiz Musafer, formerly Country Manager Practical Action Consulting, Director – PMU, Sustainable Energy Authority; and Dr. Ajith Kumara, Veterinary Surgeon, Warakapola.