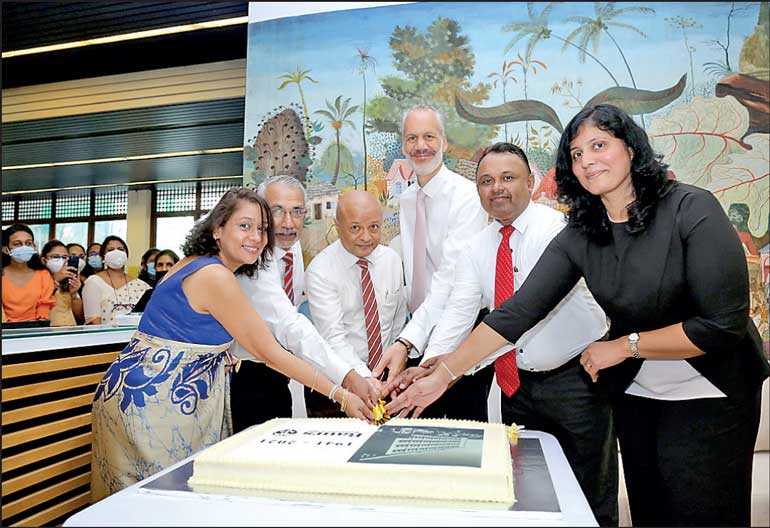 The leadership team at Baurs (from left): Director – IT Anoja Basnayake, Deputy MD/Director – Agriculture Janaka Gunasekera, Non-Executive Chairman Lakshman Niyangoda, MD/CEO Rolf Blaser, Director – Healthcare Nishantha Weerasinghe, and Director – Finance Pavithra Samarasinghe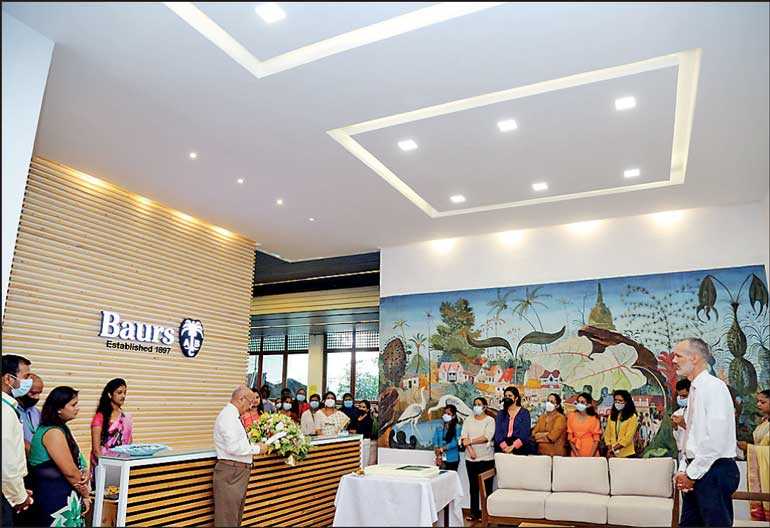 The modern makeover in the front office area of the building
---
The iconic Baurs building situated at Upper Chatham Street in Fort, one of Colombo's strong and longstanding corporate buildings of colonial times, celebrates 80 years and gets a makeover in the reception and front office area to signify its Swiss values of being modern and dynamic but deeply rooted in its traditions.

This elegant, imposing structure and a well-known architectural landmark houses the Head Office of one of Sri Lanka's leading diversified business groups, A. Baur & Company Ltd. Since its humble beginnings in the year 1897 by Swiss national Alfred Baur, the company's philosophy, value systems and culture are deeply rooted in its Swiss heritage till today.

The Baurs building, the first shock-proof building in Colombo completed in 1941 and securely located within the Navy Headquarters zone, has seen 10 managing directors come and go, nine of whom were Swiss nationals with the most recent being a well-known Sri Lankan business personality, Lakshman Niyangoda who now serves as the company's Non-Executive Chairman.

"This year marks a historic event in the Baurs journey as our building at Fort marks its 80th anniversary. The walls of this building have heard and witnessed all our plans, prayers and passion and we have a very emotional connection to it. The refurbishment done to the front arenas of the building giving it a modern outlook resembles our ambitious intentions to embrace the future whilst living up to our century-old Swiss values," said Lakshman.

Baurs' distinctive reputation stands for its trust and reliability, quality, and innovation. The company's bold approach has resulted in initiating many industry's firsts in Sri Lanka. Widely regarded as an industry pioneer, Baurs is the first company to focus on agriculture fertiliser since 1897.

Its track-record of being first includes the usage the Sri Lankan railway for commercial transport of goods and sharing scientific knowledge and expertise with farmers in 1901, deploying tractors in agriculture in 1919 which marked the beginning of mechanisation of agriculture, establishing the first fully-electrified tea factory in 1936, ending the malaria epidemic in the country in 1946, bringing Swiss Air to Sri Lanka, producing the first basmati rice in Sri Lanka in 1965, launching a biopesticide in Sri Lanka to control fall armyworm last year, and most recently initiating a Swiss apprentice model for the country's hospitality education sector.

Its state-of-the-art fertiliser factory located in Kelaniya is one of South Asia's most advanced, fully automated plant. Throughout the years, Baurs has engaged in a full spectrum of import, export, distribution, and manufacturing, expanding from its core agri business to now include various other sectors such as healthcare, consumer, airlines, machinery, education amongst others.

The culture and values at Baurs are similar to that of its parent Genève-based Alfred et Eugénie Baurs foundation. Just like the foundation, Baurs continuously engages in numerous socially responsible agendas in the infrastructure, knowledge, and training domains, with the view of uplifting communities and rural towns in Sri Lanka.