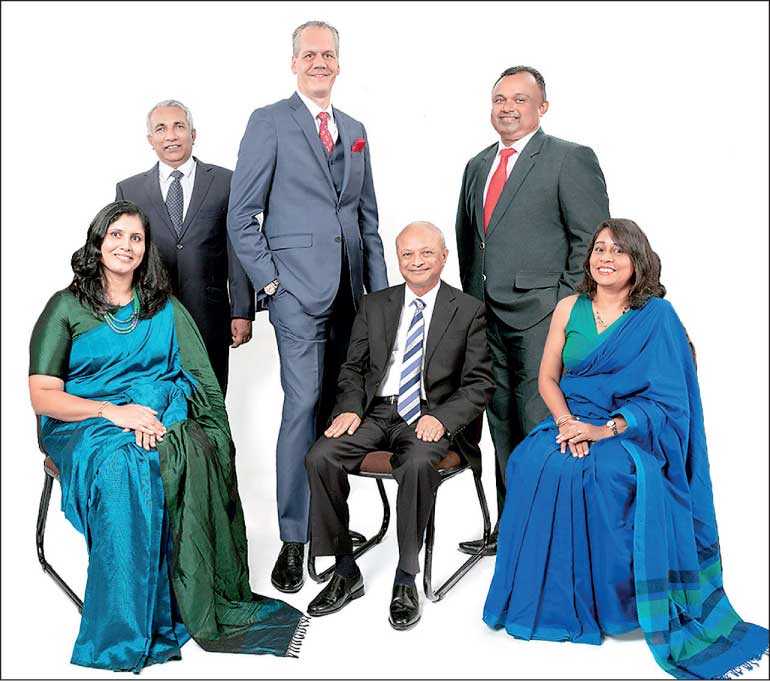 Standing from left: Deputy MD and Agriculture Director Janaka Gunasekera; MD and CEO Rolf Blaser; Healthcare Director Nishantha Weerasinghe. Seated from left: Finance Director Pavithra Samarasinghe; Non-Executive Chairman Lakshman Niyangoda, and IT Director Anoja Basnayake
---
With an undisputed reputation for excellence and innovation, A. Baur & Company Ltd. (ABC) most commonly known as Baurs, is commemorating its 123rd anniversary this year, with the number being significant and well-reflected in its corporate philosophy expressing 'ABC for Life'.

Founded in 1897 by Swiss national Alfred Baur, the company has embraced and fostered a Swiss heritage till date with similar value systems embedded in its culture, whilst fully operating in the local market. With humble beginnings in the local fertilizer industry, Baurs diversified into healthcare in 1945 with J. R. Geigy Ltd., which merged with Ciba to create Ciba-Geigy, later acquired by Novartis which also owns Sandoz. Today, Baurs is engaged in import, export, distribution and manufacturing for various sectors to include agriculture, healthcare, consumer, industrial raw materials, airlines, tourism and education.

Baurs is proud to have the most advanced high-tech fertilizer factory probably in the entire South Asia region. The Kelaniya-based factory is fully automated with artificial intelligence and machine learning integration being deployed, and many similar technologies are planned in the near future.

Last year, its Plant Protection Chemical division was successful in registering the first biological insecticide product namely FAWLIGEN in Sri Lanka. The product contains a virus that controls the fall army worm which can immensely help secure thousands of maize fields in Sri Lanka.

The company is famed for its continuous disruptive innovation. It was the first to build and operate an industrial rail in 1901, and first to provide its customers with scientific advice from the same year. During 1919, Baurs deployed the first ever agricultural tractor and in 1941 it constructed a shock-proof building which serves as its head office till this very day.

It has an excellent track record in its distribution network throughout its years in the country, boasting highly insightful and impactful marketing competencies whilst placing ethics and social responsibility at the heart of its operations. The Baurs name is synonymous with trust, reliability, quality and innovation which are all well rooted and reflected in its strategic thinking, approach and dealings.

Baurs share the very same principles and values to that of its parent which is a foundation, Alfred et Eugénie Baurs back at Geneva, Switzerland. The foundation, engaged in many global charity initiatives, primarily serves to ensure the continuation of Baurs, allocate appropriate resources to maintain the museum, and supports philanthropy, nature and folklore.

Some of its partners, among several others, include Roche, Novartis, Nestle Health Science, and Merck (Pharma), Omron, Medtronic, Nouvag, and Becton Dickinson (Surgical & Diagnostics), Johnson & Johnson, Turkey, Marico (Consumer), Swiss Air Lines, Edelweiss, SWISStours (Airline & Travel), Kluber Lubrication, Bracker, Datacolor (Textile & Machinery), Adama, Nufarm, UPL (Plant Protection Chemical), Elanco, Bioproton Pty Ltd (Animal Health), and Lonza, Kisco (Industrial Raw Materials).

Baurs places high importance in being ethical and compliant and this is well reflected in its various standards and processes, including many ISO certifications and codes and practices. It is a gold card member of Sri Lanka Customs with green channel clearance which speaks loud of the trust and confidence placed in Baurs throughout the years. Baurs is a member of the Ceylon Chamber of Commerce since 1899 and has an intact relationship with HSBC since ABC's inception in 1897.

Baurs indulges in numerous social responsible agendas. It is a principal donor to a school for children with hearing deficiencies to empower those students to get through their youthful years with ease, comfort and motivation. It provides knowledge and training to those underprivileged in rural towns, through its six months internship program and eventually also welcomes some as full time employees.

The signature initiative is the school furniture project in its infrastructure development pillar. Since the inception of this project, it has donated school furniture to over 380 schools and over 280 institutions including religious establishments, across all 25 districts. The furniture is made in Switzerland according to highly personalized specs, having understood that physique among school children varies. More than 210 complete 40-foot containers have been imported in this regard, one monthly on average.